Tutor LMS Plugin Review by LMS.org
Tutor LMS takes education to the next level on WordPress. The plugin empowers website owners who want to teach. The user-friendly interface is adaptable and can be used in any industry or with any subject. Advance quiz options include image answers as well as classic true-false, multiple choice, short answer, and more. Generate filterable reports, gather in student forums, and sell online courses with Tutor LMS for WordPress.
Tutor LMS Brings Scalable eLearning to Your WordPress Website
Tutor LMS is another creation by the team at Themeum. The company mission is to "upgrade your WordPress experience" with themes and plugins. The official site points to Tutor LMS as an all-in-one solution designed for every type of user. WordPress is a hugely popular platform that's attracted universities, schools, and other educational organizations. Tutor LMS brings even more to the table for those groups and anyone else who wants to train or teach. Does it hold up against the vast sea of plugin competition that's already available on WordPress?
What Do You Get with Tutor LMS?
When most people think of a learning management system, they assume you need a standalone product rather than a plugin. Tutor LMS aims to change that belief by introducing a list of powerful features. What can you do after installing this WordPress plugin?
Drag and Drop Course Builder – Tutor LMS includes a convenient drag-and-drop course builder. Users can easily arrange each piece of content without coding. Create effective courses in less time.
Course Bookmarks – Learners can add courses to their personal bookmark list to check out later. This feature is available on the course showcase thumbnails. Let learners build a wish list that can encourage enrollment.
Advanced Quiz Creator – Choose from several question and answer types like short answer, ordering, open-ended, true-false, multiple choice, fill-in-the-blank, and matching. An image answering option is also available that lets users add questions with visual answers. Quiz timers can also be applied.
Filterable Reports – Track performance with Tutor LMS reports. Compile data automatically and use filters to drill down to find what the user needs. See which courses are popular, how many quiz attempts were made, and more. A custom report search is also included.
Add Course Prerequisites – Give students a path to follow by adding course prerequisites. Learners must complete specific content before continuing to ensure that they have the knowledge needed to advance in their studies.
Custom Certificates – Recognize achievement with certificates. Users can add custom designs, so the award matches their goal, focus, or branding. Certificates can be awarded after completion of a course.
Create Unlimited Courses – Tutor LMS doesn't limit the number of courses a user can add to their catalog. Create as many as you want to reach the biggest audience or to cover all areas within a certain industry, field, or niche.
Assign Multiple Instructors – Pool knowledge and give learners more information with multiple instructors. Educators can collaborate and work together on the same course. Choose instructor profiles to share knowledge or create a specialized class.
Course Files – Courses are often more than just the content delivered in a class. Tutor LMS lets users upload course attachments. These can be any WordPress-supported file type including PDFs, GIFs, JPGs, and Word Docs.
Built-in Student Forums – Harness the power of social learning with student forums. Tutor LMS encourages interactions and participation through online discussions. Instructors can spark conversation by asking questions or joining conversations.
Offer Course Previews – Entice new enrollment by offering course previews. Each can include a few lessons that learners can complete for free. Let them decide if the course is a good fit before committing.
Customized Quiz Grading – Instructors stay in control of their classes with customizable quiz grading. Choose how to count grades to ensure consistency and accuracy when administering quizzes.
Sell Courses Online – Sell courses online through Tutor LMS. The plugin works with payment gateways that are powered by WooCommerce and EDD. Add a shopping cart and generate revenue with course content.
Supports All Themes – You can continue using your favorite WordPress themes with Tutor LMS. The plugin works with all themes. No major modification required.
Choose Access Levels – Choose different types of access when selling courses. Offer a one-time purchase plan that lets learners buy one course at a time. Lifetime access is also available to give learners unlimited access to course content forever.
Gutenberg-Compatible Design – Tutor LMS is compatible with the new Gutenberg editor. Create a functional learning resource that will run smoothly. Work with three custom Gutenberg blocks, including Student Dashboard, Instructor Registration Form, and Student Registration.
Tutor LMS Transforms WordPress into an eLearning Hub
Tutor LMS significantly expands WordPress website functionality for schools and educators. The plugin manages to bring many popular and needed features to the platform that are typically available in standalone products. Users can manage enrollment, build courses, customize, and track success with analytics. There's a lot to love if you want to construct a virtual learning space that stands on a WordPress foundation.
The Tutor LMS Environment
Tutor stays ahead of the game when it comes to design. The interface is modern and user-friendly. Novices will have no problem navigating the system. It's built to work with WordPress' new Gutenberg editor so that users can run their sites with the most recent tools. The drag and drop course maker also adds appeal, letting content creators visualize as they build.
Who Uses Tutor LMS?
The Tutor LMS WordPress plugin is designed for anyone who wants to create an educational or training website. It's adaptable enough to work with just about any industry or subject. Individual professionals, schools, and businesses can offer classes on anything imaginable. It can only be used on WordPress sites, so naturally, that's a requirement.
Supported Devices & Platforms
Tutor LMS takes much of the guesswork out of building an eLearning webpage. The plugin is responsive so that it will work on any size screen. Learners can access coursework while on the go with a tablet or smartphone or while sitting at their desktop or laptop PC. The experience remains the same to ensure optimum performance, functionality, and access to features no matter which device the learner prefers to use.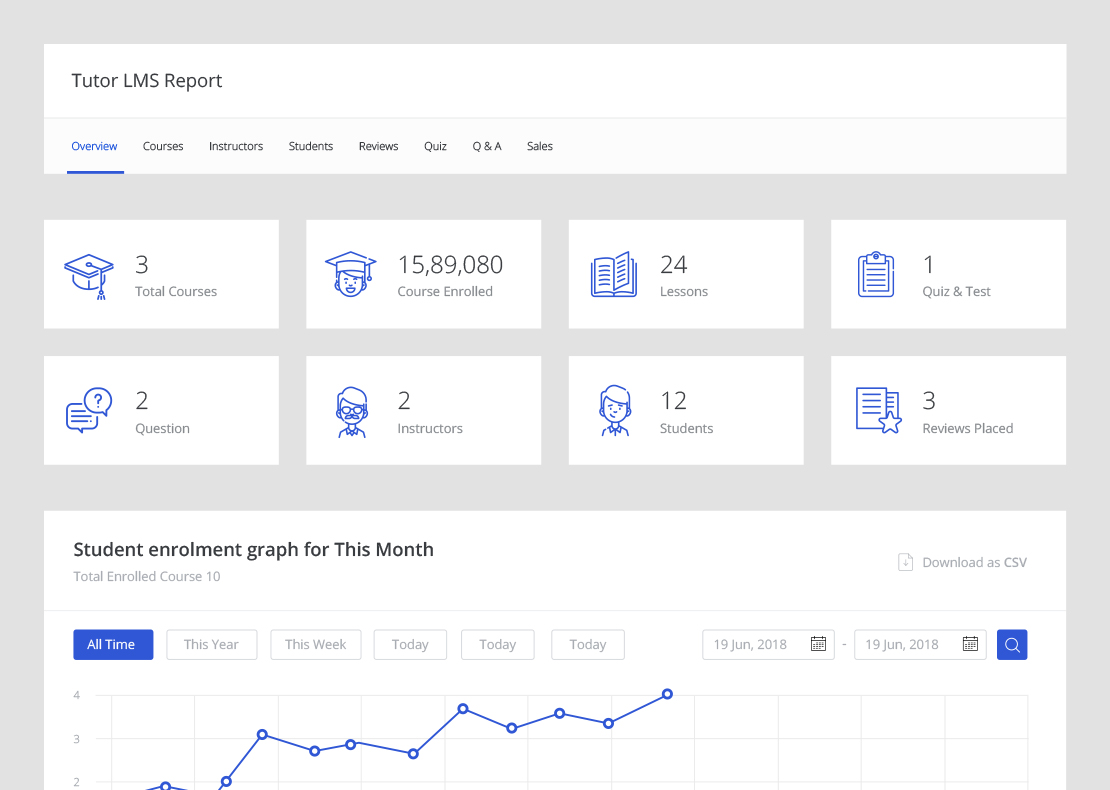 Tutor LMS Customer Service
A live chat box is accessible on the Tutor LMS website. If someone is available, the user can have a conversation right away. If no one is online, a button is there to send an email to support. Online documentation is provided as well as a support forum with office hours and a search bar. Users can also review quick FAQs to find answers to common questions. Each license option includes one year of priority support.
The Future of Tutor LMS
Tutor LMS is a newer addition to the WordPress plugin catalog. It's already earned high marks from users who appreciate it's features and compatibility with WooCommerce. Considering that there are an estimated 172 million WordPress websites online, Tutor LMS has enormous potential. The plugin gives users the ability to transform their pages into a functional learning management system that's highly scalable and adaptable. The potential is there and will likely continue to grow the Tutor LMS userbase as more people discover it.
Tutor LMS Lets Users Teach with WordPress
WordPress plugins can do many things. Tutor LMS further expands functionality to create a fully featured eLearning platform. The design is attractive and modern, with great usability. Everything the user needs to train or teach is there, from basics like student dashboard and enrollment to forums, certificates, and file attachments. Even the quiz builder brings something extra to the table with its image matching and answering option. Tutor LMS is available to purchase with one, five, or unlimited licenses. Users can try a live demo before they buy. If you have a WordPress site or plan to build one, the Tutor LMS plugin is well worth a test run.