Brainier LMS Review by LMS.org
The minds behind Brainier listened to the needs of users and developed a system that caters to almost everyone. Create branded login pages with logos and more. The system supports multi-tenant access so users can establish separate areas for customers, employees, or partners. Build custom groups, incorporate social learning, and keep users motivated with gamification. Brainier brings new levels of innovation and flexibility to the LMS table.
Brainer LMS Brings Blending Learning Without Limits
Brainier is an LMS born out of the input of trainers and learners. At first glance, it appears to offer all the basic tools a user could want. It is cloud-based, mobile-friendly, and highly customizable. While the basics are important, users want more out of their learning platforms these days. Brainier claims to have it all, but does the LMS live up to its promise of bringing users learning that "has no limits"?
What Do You Get with Brainier LMS?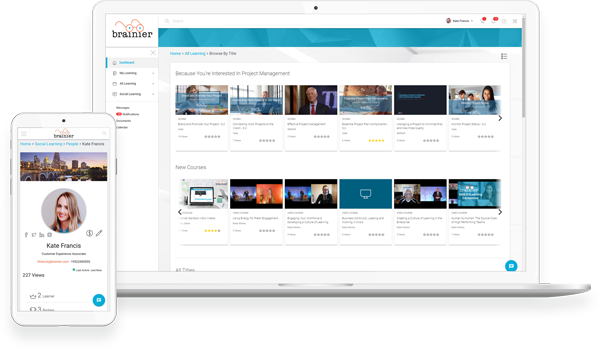 The features list defines a learning management system. Brainier's is quite impressive with a combination of efficient tools and flexibility. The developers appear to have examined both sides of the training equation because both receive access to a number of things that can save time and encourage productivity and discovery. What should you expect when checking out Brainier for the first time?
Comprehensive User Dashboards – A comprehensive dashboard greets learners after login. This area provides an overview of activities, news, and more. Users can explore My Learning to see mandatory training, recommendations, bookmarked courses, and progress. Twitter feeds, leaderboard, daily snapshot, and more are also displayed. Gadgets are available that let users customize what appears on the dashboard.
Integrated Video Coaching – Brainier includes integrated video coaching that takes assessments to the next level. Increase engagement and keep learners appraised of their progress. Establish stronger coach-learner relationships and help your training classes be successful.
Easy-to-Read Course Overviews – Each course is presented with an easy-to-read overview. Learners can see the course title, author, length, user ratings, progress status, description, sharing options, tags, and an image.
Convenient Search Bar – Brainier includes a convenient search bar at the top of the page. Users can enter their search request, and the system will find it in titles, descriptions, and keywords. Ranking algorithms are also employed to push the most relevant results to the top. Users can browse top choices or hit enter to view the full list of results.
Flexible Organization – Organizations can group users any way they like. Each learner can be assigned to multiple groups for greater flexibility. Businesses can build groups based on department, job role, location, or other criteria. Content is curated based on the groups a user is in for a personalized experience.
Built-in Gamification – Brainier includes leaderboards to encourage a sense of friendly competition among users. Employees can compete for a top spot by earning points, rank, or badges. Admins choose the point system. The LMS includes pre-built ranks and badges or admins can create their own.
Social Learning – Collaboration is encouraged through Brainier's social learning tools. Learner profiles can be customized with links to social media or other websites. They can also display subjects the learner is interested in as well as their title, email address, phone number, last time active, an avatar image, and number of forum posts made.
Fully Globalized LMS – Brainier is fully globalized to provide eLearning solutions that ignore geographic borders. The system supports all time zones and includes many built-in languages. Changing from one to another will switch all menus, labels, buttons, and other interface features to the chosen language (user-created content will remain in its original language).
Unique Help Pages Throughout – Every area within the LMS can be equipped with a unique help page. Learners can view this page for information on the tools or content they are accessing. Help pages can include company branding for an authentic experience that's also highly intuitive.
Intuitive Admin Dashboard – The administrator dashboard is equally as intuitive with a logical layout. Almost anything is accessible within a couple of clicks. Admins can adjust global settings like HTML pages, labels, email templates, and privacy notices.
Fully Customizable Themes – Users can make the LMS look like it is their branded product with themes. Create unique portals for each group that uses the platform. Logos and colors can be changed - even the system labels are editable. Change terminology for menus to reflect what each audience expects or knows.
Object Creation Wizard – The Object Creation Wizard lets users turn anything into a learning tool. Brainier supports all eLearning standards including xAPI/cmi5. Users can also add links, evaluations, surveys, documents, success tracking, instructor-led classes, and more.
Practical Surveys & Assessments – Surveys are available in Brainier. Users can choose from different question types including essays, dropdown options, and radio buttons. An evaluation tool is included that utilizes the Kirkpatrick Level 3 method to identify behavior changes. This requires learners not only to remember but understand and apply the information presented.
Advanced Reporting – Users can review at-a-glance reports. Custom reports can be built based on the organization's needs. An analytics dashboard is also available that includes customizable gadgets that display different data. Reports are curated and individualized. Audit trail reporting is also included so that users can monitor specific actions taken within the LMS.
Smart Report – The search-based Smart Report is unique to Brainier. Users can enter anything, like a name or keyword, and the system will find matches. Results are grouped by category including groups, courses, people, and more along with a summary of key details like objects, recent activity, assignments, and progress.
A Powerful Solution That Goes Beyond eLearning
Brainier has a lot to offer. The system shakes off many of the limitations found among its competitors to give the user more ways to train and manage people. The system supports multi-tenant use, so customers, contractors, and business partners can access their dedicated areas. It's also highly intuitive with an effective search tool that lets users find what they need without wasting minutes jumping from one feature to the next. There's a lot of training potential packed into Brainier thanks to its clever features and streamlined design.
The Brainier Environment
Brainier looks just as good as its features list sounds. The environment adopts a very modern, sleek appearance. It's highly customizable so users can truly own the experience they are offering to employees or customers. What really seals the deal is the way functionality and visual appeal blend together. The pair work hand-in-hand. The aesthetic qualities enhance usability by allowing users to easily navigate and understand how to access features or complete tasks. From the system's data visualization reports to its course thumbnails, it's easy to seek out specific items or discover new content within Brainier.
Who Uses Brainier?
Brainier is an LMS that was designed for just about anyone. It can accommodate businesses of almost any size and from any industry. Users can mold the system to match their internal structure by using the grouping tools and custom themes. The LMS has received high marks from users with companies ranging from 200+ employees to 40,000.
The system also provides options for international organizations with globalization. Over a dozen languages are currently offered including Arabic, Chinese, English, French, French Canadian, German, Italian, Japanese, Korean, Portuguese, Spanish, and Swedish. Plans to add Hindi are also in the works.
Supported Devices & Platforms
Brainier features a responsive design. Any modern browser can be used to access it. Optimized video playback is supported for any device so that users can access course content on a PC, laptop, tablet, or smartphone.
A Brainier mobile app is also available for both Android and Apple devices. It provides an intuitive experience that includes completion history, started training, assignments, and more.
A badge scanning module is also included. This allows event organizers or trainers to track attendance easily when teaching in person. A QR code or barcode can be generated to instantly input data into the LMS. This allows users to combine eLearning with in-person instruction quickly and accurately.
Brainier Customer Service
Brainier doesn't just talk about providing great customer service. They win awards for it. The company earned an International Stevie Award for Customer Service in the Up to 100 Employees category in 2018. Not only are they the only LMS to earn this award to date, but they have also done so every year since 2018.
One judge stated that "The thing about the Stevie Awards is the hidden gems of companies doing the right things for the right reason. Brainier was not known to me before this application for the award. Their understanding of the world of customer experience management is a testament to the many other companies who have blazed a trail for accomplishment in this area. Brainier has learned lessons well, and they have supported their mission goals with empirical evidence."
Direct support is provided through phone, email, or a user account. Users are also assigned an implementation specialist to streamline implementation and resolve future issues.
The Brainier website lists an average first response time of 3.56 hours, far quicker than the industry average of 16 hours. Meanwhile, 92% of issues can be answered by their support reps.
The Future of Brainier
Brainier continues to impress with excellent customer service, a solid platform, and innovation. The LMS won a 2022 Brandon Hall Group Gold award for Best Advance in Unique Learning Technology and Best Advance in Learning Management Technology. There's no doubt that the platform will continue to thrive for years to come.
Brainier Brings It All In One Modern LMS
Users who want more flexibility and functionality out of their LMS should consider Brainier. The system is designed to make life easier for everyone – from the admin working on the back end to the employee or customer accessing training on the front end. Users can build reports, manage profiles, and create effective training content all within a streamlined interface. The system is SCORM/AICC compliant and supports single sign-on. There's a lot to love when you start delving deeper into Brainier's offerings. It's worth a try for both first time LMS users as well as those who are searching for an update with more bells and whistles.