LearnRight Brings Scalable Online Training That's Customizable
LearnRight is an up-and-coming LMS that strives to be a complete solution that adapts to the unique needs of each organization that uses it. The platform harnesses the power of eLearning by streamlining the process and making training material accessible to learners across borders. It is currently the only Irish-owned LMS that serves an international user base.
Flexibility and adaptability are important in the eLearning realm. LearnRight promises to deliver both. The LMS currently covers a lot of ground among its features, with plans for future updates to expand the customer experience.
What Do You Get with LearnRight LMS?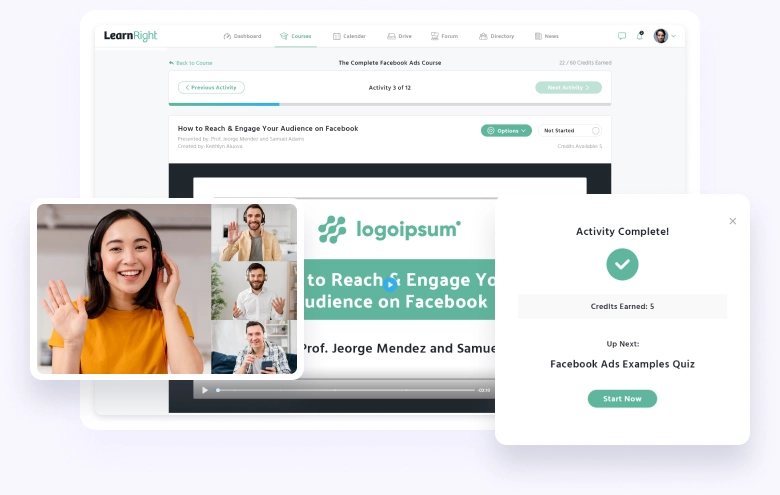 LearnRight's website claims to be "The smart LMS that grows with you." While many organizations expect certain core features, what that means from one user to the next may vary. The system will have to be able to meet different needs without becoming overly complicated. What can you expect when you give LearnRight a try for the first time?
Completely Customizable Course Authoring
LearnRight course authoring gives users complete control of how they present their training material. Add a start and stop date or make a course available all the time. A minimum number of credits can be required to access advanced courses. Trainer directory profiles can be linked to a course, making it easier for learners to connect with them.
Create Journeys to Guide Learners
Organize course content into user-friendly journeys. This feature helps guide the learner along the correct path to reach training goals. Introduce basic instruction or subjects to establish a foundation to learn more advanced concepts.
Build Branded Courses with Custom Colors
Create course content that looks authentic by adding your organization's branding and logo. LearnRight lets users customize the look of their content with unique colors. Logos can be added to the login screen, favicon, and navigation as well as all certificates, transcripts, and receipts. Branding can be applied with multiple secondary colors as well as custom banners.
Add Video Content and Webinars to Courses
Diversify course content with videos or webinars. Delivering information using multiple formats is recommended to help learners retain knowledge. Videos can be uploaded as an activity and then assigned to a course.
Easily Resume Activities with Recorded Progress
Progress is recorded every time a learner does anything in a course. When they return, LearnRight will put them right back where they left off. There's no guesswork and the user can dive right in without wasting time.
Native Quiz Feature with Custom Settings
LearnRight comes with a quiz builder. Users can choose a passing percentage and add a mandatory delay for retakes to reduce the risk of cheating. Test questions can be set up in a variety of formats including true/false and multiple choice. The system also includes surveys to request learner feedback.
Create and Assign Activities with Credits
Users can create activities and assign them to specific courses or modules. Each can be given a credit value. The primary activity types include quizzes, assignments, video lessons, slideshows, and instructor-led training.
Flexible Options for Paid or Free Courses
LearnRight lets users decide how to distribute their courses. Access can be provided for free or for a fee. Users can choose a recurring subscription or set up a one-time payment. Provide free training for employees or turn your learning material into another revenue stream by selling courses to the public.
Scalable LMS for 5 to 15,000 Users
Scalability is essential in eLearning. LearnRight offers a platform that can grow with your team. The user experience remains the same, creating consistency whether you are training a handful of new hires or skilling up an entire workforce.
Supports Scheduled Live Sessions
Users can host live scheduled classes using LearnRight and their favorite third-party webinar platform. The LMS supports several of the most often-used apps including WebEx, GoToMeeting, Zoom, Join.Me, and Google Hangouts. Trainers can also mark users as present to record live class attendance.
Organize Users into Custom Groups
Groups help keep users organized based on job role or access needs. LearnRight includes custom groups that let managers or admins set permissions. Add custom functionality and make sure each team has access to the learning resources they need.
Generate Certificates of Completion
Organizations that need to track compliance can generate certificates when a user successfully completes a course. These can be used as a record or to help motivate users as a reward for a job well done. Certificates can be issued for completing a module, sprint, or an entire course.
Add Comments to Any Content in the LMS
Comments can be posted to any content in the LMS, whether it's an article or an entire course. This adds a social aspect to the experience while also making it easier to share important information, suggestions, or questions with others.
Built-in Directory with User Profiles and Messaging
LearnRight includes a built-in user directory. There is no need to bring in a third-party solution to keep your team connected. User profiles can be created with options for direct messaging. Profiles can be as simple or personal as needed by adding interests, hobbies, descriptions, qualifications, and more. User directories are searchable, making it easier to reach out to managers, subject matter experts, or whoever is needed.
Store Everything on the Community Drive
Users can access a community drive that houses all files, videos, workbooks, PDFs, and images. Access can be controlled through permissions. Roles can be assigned that have access to different functions, like the ability to edit, upload, or delete files. The drive serves as a centralized repository for all training files.
LearnRight is an LMS Inspired by Client Needs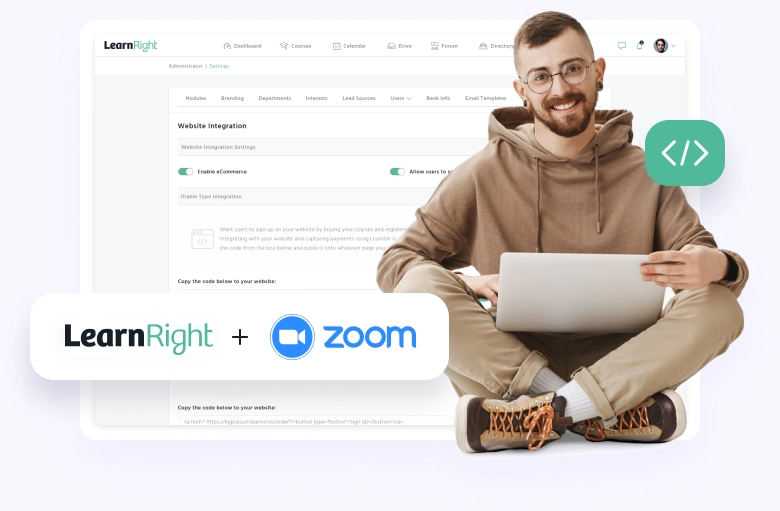 LearnRight was inspired by the changing needs of clients. The team behind the platform got their start in web design. They noticed a recurring theme of clients wanting eLearning features. They began with bespoke solutions for each client, creating special features like membership courses.
After gaining a better understanding of LMS development and client needs, the team switched gears to build a powerful eLearning platform that worked well and eliminated the need for most custom requests. When the COVID-19 pandemic hit, they used their time to build this ambitious LMS.
LearnRight Accessibility & Personal Data
LearnRight LMS is developed with a focus on accessibility and GDPR compliance. The platform has implemented a range of features to ensure that it is fully compliant with the European standards for accessibility, including the Web Content Accessibility Guidelines (WCAG) 2.1 Level AA. In addition, LearnRight LMS has strong data protection measures in place to ensure the privacy and security of users' personal data, including encrypted data storage and strict access controls. Overall, LearnRight LMS is a highly accessible and GDPR compliant platform that is designed to meet the needs of enterprise customers in the European market.
The LearnRight Environment
LearnRight presents a clean, modern interface that looks good without overwhelming the user.  There are no flashy or gimmicky elements. Everything is straightforward and well-organized with eye-catching hints of color. Users can further personalize the interface by adding branding and custom colors.
Who Uses LearnRight LMS?
LearnRight is ideal for corporate users. The platform is scalable, making it perfect for a wide range of business sizes. The LearnRight team is committed to providing a higher level of customer support. Clients receive access to a dedicated account manager who serves as a point of contact for setup, onboarding, branding, and more. They will also assist with initial course creation and ongoing use.
Business users who want an LMS with a hands-on team will appreciate the level of support they receive with LearnRight.
Supported Devices & Platforms
LearnRight is available on any device with an internet connection. Users can access a web-based portal to work through courses. No native Android or Apple apps exist at this time. Multiple portals can be created upon request. Eventually, the team plans on making this a feature that users can handle without assistance if they prefer.
LearnRight LMS Customer Service
LearnRight is dedicated to the customer experience. You get a higher level of customer support than you might find with less hands-on platforms. Each client is assigned an account manager that guides them through the basics and early setup.
The LearnRight team has a background in web development, where they worked closely with clients. They continue to apply that client-focused approach while creating a platform that includes self-serve features. It is a good balance of convenience and customer relationship building.
The Future of LearnRight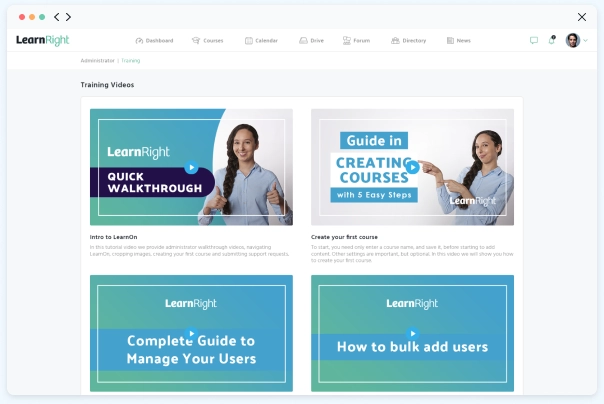 This is just the beginning for LearnRight. The platform is newer, but there are big plans for the coming year. Expanded and improved functionality updates are expected throughout 2023. Upcoming plans touch on core features like drip feeding of courses, virtual reality (VR) learning experiences and collaborative learning, artificial intelligence (AI) personalized learning, and more.
LearnRight Combines Excellent Support and Convenience
LearnRight may be a newcomer, but its roots date back to 2014 when the team was working with web design clients. After building bespoke platforms, the team discovered a need that they wanted to fill. The LMS currently offers a good list of solid features with a modern interface. The functionality will continue to expand into 2023. Business users who want enterprise-level support with the convenience of an off-the-shelf product will appreciate what LearnRight has to offer.