Valamis LMS Review
Valamis offers an all-in-one platform that covers management and the learner experience. Users will find a wealth of resources that range from course authoring tools to gamification and HR integration. The ValBo chat bot and improved enterprise-wide search function help users discover new content beyond their mandatory training curriculum. The system has created ways to adapt to the needs of the learner to provide a better overall experience.
Valamis Empowers Users with Proven Methods and More Options
Valamis, formerly Arcusys, was built to help users reach business goals and improve the way they train. The platform became the company's focus in May of 2018, which prompted the name change and hinted at the success of the system and its features. Significant thought and research have gone into the development of Valamis, which utilizes methods that are similar to those of the Montessori school model. This allows the system to be more fluid with learning paths that are customized and engaging.
What Do You Get with Valamis?
Valamis combines a learning management system with a learning experience platform. This enables users to do everything without the need for a third-party solution. The features list covers all key areas like content creation and curation, analytics, user management, and more. What will you find when you try Valamis?
 AI-Powered Digital Learning Assistant
Valamis includes an AI-powered digital learning assistant that helps tailor the experience to the individual user. Rather than force a standardized approach onto every learner, the system adapts to different learning styles. The AI assistant guides users to relevant material that's more accurate and provides the answers they need.
The dashboard serves as a hub of all activity on the platform. Users can get a snapshot of where they are now, where they were, and where they are headed. View lessons that are in progress, completed, or see what other learners are achieving.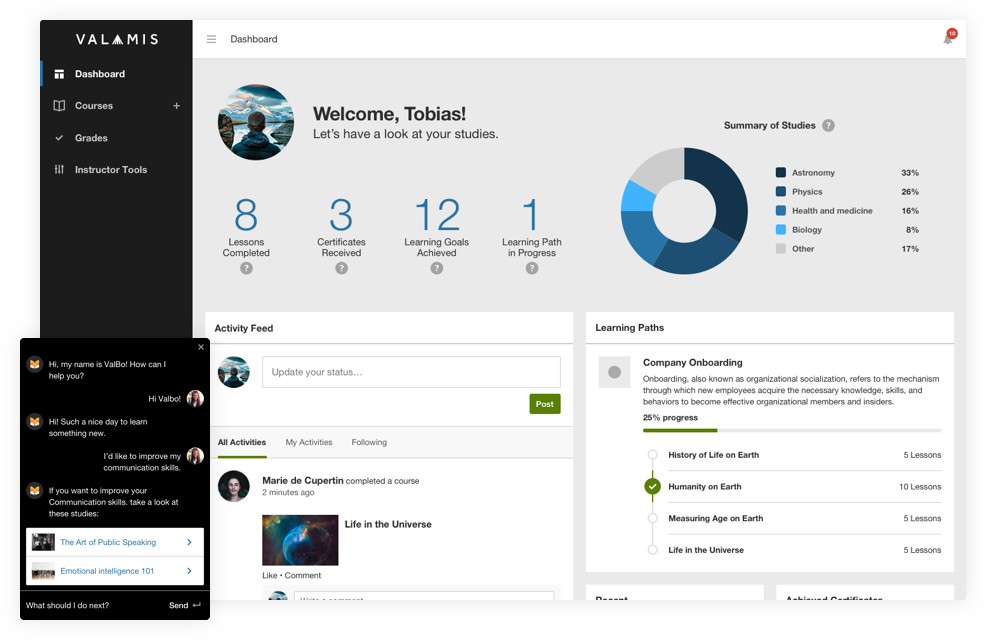 Social Learning and Gamification
The social side of eLearning is emphasized with Valamis. Users can review the activities of their fellow learners to encourage participation and progress. Gamification features also increase engagement and help motivate learners to accomplish more.
Learning paths let users group related content together. Each includes a description, image, goals to achieve, and whether or not an activity is mandatory. Learning goals are presented in familiar PowerPoint deck-like slides that include text, videos, images, PDFs, and other popular file formats.
The course editor is straightforward and easy to use. Add text, documents, images, presentations, audio, or video to create a well-rounded lesson. Drag and drop elements or use the clearly marked menus for additional customization. The system supports HD-quality audio and video content.
XAPI Foundation for Advanced Tracking
An XAPI foundation gives Valamis the ability to track all clicks and more. See how much time learners spent on a specific slide to determine which content was difficult and where courses can be improved. Clicks can also indicate which areas are more popular among learners. See what content has been consumed and how it was consumed.
Microlearning has proven itself to be a very valuable tool in education. Valamis includes content creation tools that allow users to harness the power of microlearning. Increase engagement and knowledge retention by breaking information down into easy-to-digest segments.
Drag and Drop File Interface
Adding new files to Valamis is easy thanks to its drag and drop interface. Simply choose the file and drag it onto the page. Any popular file type can be used. PowerPoint presentations and PDFs of up to 15 Mbs are permitted.
Organizations that already own SCORM content can continue using it with Valamis. SCORM and Tin Can files can be uploaded and seamlessly integrated using the drag and drop system. The content automatically populates. It's a simple and fast way to migrate content into the system.
Familiar Design with Embed Capability
Valamis was designed with the user in mind. The interface favors a familiar appearance that is more manageable for first time users. Code can be embedded from well-known online resources like Vimeo and YouTube to give users more options when building courses.
Versatile Search That's Intuitive
Valamis makes it easy to find relevant content or to discover new content that might be of interest to the user. The search function lets users enter terms and presents them with results that match. Rather than sticking to the exact terms, the system tries to understand the request on a human level. Related items will be included in the results, even if those items did not contain the exact search words. This gives users the ability to find content that they might want to access beyond what is mandatory for their current curriculum.
The system can be customized to allow users to search for anything across the organization. Find client resources, content, and more without moving from one platform to another. It's convenient and can save a lot of time when managing large libraries of resources and data.
The ValBo chat bot powered by IBM Watson is part of Valamis. Users can access the AI chat bot from the dashboard and ask it a question. For example, if the user asks "What should I learn today?" ValBo will scan the user's past activity and compare with available courses to make recommendations that fit. Users can provide feedback to refine the bot's ability to respond.
Push Notifications at the Right Time
The system can also learn about user habits and provide push notifications at the right moment. The user's highest activity times are tracked, and notifications are delivered during those times, making the user more likely to see and act on them. This is a great way to work with the learner's natural habits and encourage additional learning.
Integration with HR Systems
Organizations that use an HR system can integrate directly with Valamis. The platform will automatically pull profile data, so all information is visible and up to date. When an employee is removed from the HR database, it is also deleted from Valamis.
Improved Competency Ratings
Skill rating is available in Valamis. The user can choose from don't know, novice, professional, expert, and leading-edge expert. They can also set goals to reach a level within a skill. This combined with activity on the platform help managers work with employees to achieve professional goals.
Advanced Learning Analytics
All data collected within Valamis can be customized. Users can see what pages have been viewed and if learners are successfully completing content. Progress is indicated by colored blocks that show pass or incorrect/incomplete for each learner.
Virtual and In-Person Training Supported
Valamis supports virtual and in-person training as well as online education. Users can host live events with WebX or classroom training that is recordable within the LMS.  Users can view details, sign up, or join a waitlist. Organizations can also gather other information from participants, like whether anyone has allergies when providing lunch at an event.
Integrations That Are Ready to Go
Valamis integrates with a number of popular apps. Users can continue relying on the tools they know while gaining all the benefits of the platform. Available integrations including Office 365, SalesForce, Coursera, YouTube, Google, Zenefits, and more.
Valamis Empowers Users with a Customized Learning Experience
Valamis empowers users by using technology to break away from the cookie cutter approach to education and training. Users aren't shoehorned into a one-size-fits-all training format. Instead, the system finds ways to adapt to the needs of the human being, rather than the other way around. Intuitive search, a learning AI bot, and microlearning improve the experience for everyone. Managers are better equipped to guide employees toward their professional goals while learners are exposed to more content that matches their needs and interests.
The Valamis Environment
The Valamis environment is professional and modern in design. Users can easily find what they need in a few clicks. While the system provides access to enterprise-wide data, it does so in a way that's manageable. The PowerPoint slide approach is familiar, making it even easier for newcomers to adapt in less time.
Who Uses Valamis?
Valamis was created to provide businesses with a better way to train employees. It's agnostic when it comes to industry. Organizations that employ just 50 or 10,000 people can use the platform with no limitations or drawbacks. It is especially beneficial for larger companies that must juggle changing compliance rules and regulations as well as those with a monthly learning hour minimums for employees.
Supported Devices & Platforms
Learners can access Valamis from any modern browser on a computer. It is also mobile responsive. Users have the option of building a page specifically for mobile users. This ensures that all the necessary tools are visible and look as they should with no errors or odd alignment. Every user gets the best possible experience on any device.
Valamis Customer Service
Organizations can discuss their customer support needs with the Valamis team. Larger clients may be given in-person design sessions before implementation. This is followed by testing with refinement as needed. Initial training may also be provided. A fully integrated system is usually up and running within four to six weeks for large-scale customers.
Support requests are usually answered within four hours for high priority issues and one to two days for low priority issues during business hours only. A premium level is available that includes 24-hour support and version conversion service. Users should contact Valamis for details on support options that match their needs and budget.
The Future of Valamis
The current version of Valamis has many attractive features, but there's more to come. The developers continue to find ways to improve the platform. Enhancements in the future will include more ways to present relevant courses and content to learners that will help them reach their goals and inspire interest in new topics.
Valamis has already earned significant recognition in the eLearning industry. It earned a place on Deloitte's 2018 Market Overview Guide on Learning Experience Platforms and was named on Inc. 5000's List of Fastest-Growing Private Companies. The future of Valamis is bright, which means that users can look forward to more innovative ways to train employees.
Valamis Is Changing the Way Businesses Train Employees
Valamis is a learning experience platform that's pushing boundaries. With inspiration from proven educational programs, the system offers an effective way to teach. AI adds a dynamic that you won't find with many LMS products. It goes beyond simple management to encompass the entire learner experience. Adapt to the needs of the user to reduce frustration while moving toward success. The system also finds ways to encourage learners to expand their knowledge through search engine discovery and more. The platform is versatile, powerful, and works across all industries. Businesses who are serious about training should see what Valamis has to offer.