Roundtable Learning turns an LMS into a powerful asset for any company. Each user receives access to a dedicated support team along with a list of features. Add visual customizations like logos, colors, and menu names. Users can also choose to turn functions on or off for a fully personalized experience. Other features include ecommerce tools, learning paths, mobile access, online discussions, and much more.
Roundtable Learning Combines Training Solutions with True Dedicated Support
Roundtable Learning takes a client-centric approach with an emphasis on dedicated support. The system helps solve training problems while streamlining the process with a user-friendly interface and innovative features. Settings and functions can be configured to meet the user's needs, even if that means utilizing all or only part of the LMS. Many eLearning platforms claim to provide advanced features and excellent customer support. Roundtable Learning does the same, but does it make good on that promise?
What Do You Get with Roundtable Learning?
The Roundtable Learning website claims that it will be the "last LMS you'll ever purchase."  That's a pretty big boast considering the growing amount of competition that exists in the industry. What does this product bring to the eLearning table that will keep users coming back?
Before doing a demo or taking any steps toward implementation, the Roundtable Learning team focuses on the customer's needs and goals. While this isn't a technical feature, it helps drive the look and feel of the finished product. The team performs quarterly business reviews to ensure customer satisfaction.
Login Portals and Single Sign-On
Roundtable Learning can be setup for single sign-on with an HRS. Users who don't currently use an HRS can instead sign in through login portals that include automated password retrieval.
Comprehensive Dashboards
The dashboard provides a starting point for users to accomplish tasks or complete courses. This area provides an at-a-glance overview of the user's status and work. Completed lessons, average exam scores, awarded certificates, upcoming events, and more are displayed.
 The Teamwork Progress Tool
The Teamwork tool is designed to keep users updated on setup and integration progress. It's a separate benefit from the LMS and includes general tasks, feature requests, project timelines, training plans, and more to maintain open communication between the Roundtable Learning team and the client.
Roundtable Learning is highly configurable to meet user needs. Custom layouts, colors, logos, menu names, and other design elements can be implemented along with different functionalities. Allow registration through the dashboard, choose an expanded course catalog view, and more.
Export Learner Transcripts
Transcripts are compiled and can be viewed and exported. This document includes completed courses, earned certificates, assessment scores, and other learner details. Organizations can allow learners or employees to export transcripts or turn the feature off.
The resources area serves as a library that houses learning material. Users can search for specific topics or instructions on completing a task. Each item is meant to be specialized in scope so that it is easier to find exactly what the user needs. A resource item can include text, files, or hyperlinks and can be assigned to specific groups or the entire organization.
Social Learning with Experts
Users can log on to Roundtable Learning and participate in discussions about learning modules. The client can choose to enable this feature or leave it off, depending on their goals. Veteran employees can share their expertise by storing their knowledge in one centralized location for all to access.
Personalized Learning Paths
Learning paths should not be a one-size-fits-all component of an LMS. Roundtable Learning lets users assign learning modules to specific jobs, teams, or groups to build a path that allows individuals to master their roles within the company.
Reports are configurable based on the user's requirements. Settings and filters allow data to be refined to match specific goals or needs. Over 30 pre-built templates are included with the system. Reports can also be scheduled to auto-run to save time.
Roundtable Learning lets users generate revenue from their course content with ecommerce tools. Sell to partners, customers, or distributors across the world through the internet. Single and bundled courses can be sold with options for subscriptions, bulk discounts, and coupon codes.
Trainer and Instructor Profiles
Let learners get to know the people that will teach them through trainer and instructor profiles. These can include a biography with display name, photograph, and other details.
Trainers can easily manage classes through the LMS. Users can be manually enrolled, and course details can be edited to include location, description, total seats available, target audience, and more. Add and remove groups or instructors and send emails to alert users to a new session or a cancellation.
Going with the theme of a customer-focused approach, Roundtable Learning is highly scalable with flexible options. Companies that contain multiple branches or acquire other businesses can keep them separate and still use the same system. Multi-tenancy is supported with no limit on the number of tenancies one account can maintain.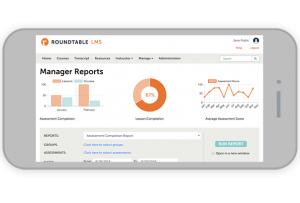 A Dedicated LMS Team That Works With the User
Many LMS platforms provide at least some customer support during implementation. However, after that initial phase is over, many users feel like they are on their own to figure out the system. Roundtable Learning takes a different approach by offering a dedicated team that stays with the user for the life of the LMS. From the beginning, the team takes a hands-on approach by learning what the user needs before trying to sell them any solutions. Rather than a one-and-done sale, the user is instead treated as a long-term client whose system needs to evolve with their business. Quarterly business reviews are conducted to monitor user satisfaction on an ongoing basis.
The Roundtable Learning Environment
Roundtable Learning offers a modern environment with nearly limitless customization options. Since the system is built around the user's needs, its interface can also be tailored to match their brand and requirements. Each instance of the LMS feels like a unique experience with personalized visual elements and functionality.
Who Uses Roundtable Learning?
Roundtable Learning is an LMS designed for a global audience. The system provides everything a business needs to train employees. It's highly customizable, scalable, and reliable. It is better suited to organizations that are serious about their training and are ready for a hands-on experience.
Supported Devices & Platforms
Accessing Roundtable Learning is easy. Users can complete coursework or tasks with modern browsers on their computer. Mobile apps can also be configured to provide more convenience for learners and the people who manage them. Users can download content that they can access while offline. The mobile system will synchronize their progress once they are back in WiFi range. The app works with both Apple and Android platforms.
Roundtable Learning Customer Service
Customer service is one of the areas that makes Roundtable Learning really shine. Even before implementation, the team learns about the customer's goals and suggests ways the LMS can meet them. Support packages will vary based on the client's requirements. Users can choose either standard Monday through Friday business hours only support or 24/7 support. Assistance can be requested by email, phone, or through the help portal. A dedicated three-person team is assigned to every client along with a dedicated project manager, support engineer, and account manager.
The Future of Roundtable Learning
Roundtable Learning presents powerful solutions for businesses that want to get more out of their training efforts. The future is very bright for the platform, especially with the team's commitment to customer satisfaction. They are highly flexible and can work with a wide range of company sizes, even those training thousands of employees, partners, or consumers.
Roundtable Learning Raises the Bar in eLearning
Users will find a robust list of features that come standard with Roundtable Learning. Many include advanced configuration options as well as a customizable interface. The team behind the platform help raise the bar when it comes to expectations in the eLearning industry. They learn about client's goals and work to meet them, rather than trying to force the client's needs to fit the product. They have even researched issues for clients to come up with better ways to handle them – shaving significant time and cost off of their training and management efforts. Users who want a personalized learner experience within a system that will evolve with their company will really appreciate what Roundtable Learning brings to their training programs.