Qintil Learning Management System Review
Qintil is a well-organized LMS that caters to a broad user base. The system includes tools for businesses, educators, and individual learners. Access a catalog of over 2,000 courses to build a robust training or educational program. Embedded videos and web links are supported. Create share-able reports with segmented or customized data. Review real-time dashboards, auto-run reports, and much more.
Qintil Provides a Learning and Skills Platform for the Modern Workforce
Qintil is a learning management system that combines practical functionality with modern convenience. It is team-friendly, making it possible to distribute content to a small group or large audience. The platform offers instant setup that lets users dive right in. The features list includes the ability to track, automate, and access eLearning courses. The website claims to offer "all your education in one place." Does Qintil make good on its promise to do it all for a broad category of users?
What Do You Get with Qintil LMS?
Qintil's features list claims to appeal to three types of users: team members, learners, and education providers. The system also promises the ability to connect to all learning in one place. The LMS looks appealing and makes many big promises on its website. What should new users expect when trying Qintil for the first time?
Combined Learning History
Qintil combines all learning history to create one ongoing database. Users can mark all previous courses completed, so the information is accurate for compliance. This also prevents anyone from having to go through duplicate training.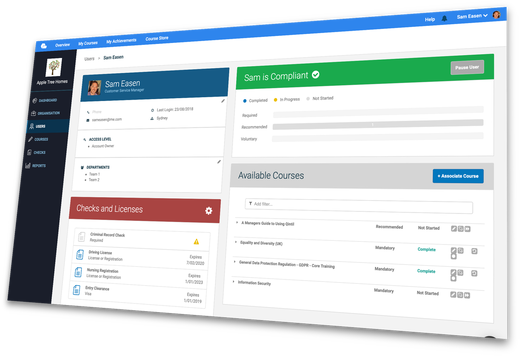 Save time by letting the system auto-assign courses based on a learner's job role, location, or compliance status. Set courses to voluntary or mandatory to ensure that all required content is completed as a priority.
Real-Time Data on Dashboards
The user dashboard provides real-time data that covers all learning activities. Review compliance status and more. Managers can take action to ensure that all their employees remain compliant and prepared for their jobs.
Individual learners can be put on pause mode so that they do not affect compliance numbers. This is helpful when employees are on extended leave and won't be participating in training.
Users can embed YouTube and Vimeo videos or include external web links to other resources. This allows trainers and educators to expand their resources and provide a richer experience to learners.
First Five Courses Are Free
Each paid Qintil account receives access to five courses. Users can also browse the CourseStore to find more course content that can be instantly added to their eLearning catalog.
Real-Time Compliance Monitoring
The Qintil dashboard displays information related to compliance status. Find out how many learners are compliant and how many are not. Users can also review assigned tasks and their status. Compliance information is presented in real-time.
Qintil instantly compiles reports that can be shared for analysis or audits. The Compliance Matrix shows relationships between learners and courses. Users can review effectiveness at a glance or delve deeper into the results. Data can be segmented, customized, and saved. Auto-run can also be enabled to schedule ongoing reports.
Access Over 2,000 Premade Courses
Users with a Qintil ID can access over 2,000 pre-made courses to further their skills and education. The system also makes it easy to prove that the user participated in past training courses and earned certification to avoid repeating content.
Privately Share Education History
Education and training histories can be shared privately through Qintil. Enter an email address for the recipient then send the information securely. Users can also share their histories with a professional organization or group as evidence of continuing professional development hours.
Qintil lets users sell their courses and classroom events online. Available sessions will be listed on the CourseStore, which puts them in front of a user base of thousands. Multiple currency pricing is supported along with vouchers and bundled course packages.
Learners can provide feedback through ratings and reviews. Build a strong reputation as an industry authority and draw in new customers with good ratings. Reviews also make it easier for new users to find your eLearning content.
Learning Manager Accounts
Users who sell courses can provide a Learning Manager account to their business customers. This allows customers to see courses with their other learning resources.
Qintil can be synchronized with GSuite, Active Directory, or Office365 to import users and more. The LMS also connects to human resources information systems and other business apps.
Qintil is a Complete LMS with Convenience
Qintil offers a complete LMS with added convenience. The system allows users to look forward and backward. Learners' past training can be recorded along with all upcoming courses. The system also offers many ways to manage compliance, which is essential in some industries. The pre-made course library is helpful for users who are just starting their training programs as well as those who need a way to round out what they already have. All the basic features are there plus many others that help streamline the training process.
The Qintil Environment
Qintil offers a clean, user-friendly environment that's simple to learn. A navigation bar and sidebar menu guide users to primary areas like the dashboard, courses, reports, and more. Each section is well-organized with clearly labeled headers. The graphic design approach is professional but not overwhelming. Stats are presented in text and circle graphs or icons. The overall appearance is inviting and suitable for any industry or educational goal. While the system has some in-depth options, it manages to appeal to all tech skill levels.
Who Uses Qintil?
Much of Qintil appears to be geared toward small to large businesses, education providers, and individual learners. Subscriptions are tiered based on the number of learners on the account and what the user wants to do. Learners pay less, followed by teachers, with those who want to manage a business paying a bit more. As far as the business user side of the equation, Qintil would likely be appealing to established small businesses as well as medium to large size organizations.
Supported Devices & Platforms
Qintil does not currently have any native Apple or Android apps available, but the system can be accessed from mobile devices. Users can explore course content and more by logging in through an internet-connected device, laptop, or desktop computer.
Qintil Customer Service
The Qintil website provides access to a help center where users can search for answers from their support team. A few main categories are already available on the help page, including information on accounts, learner access, and administrator activities. There are also local phone numbers for offices in Australia and the United Kingdom as well as a support email address.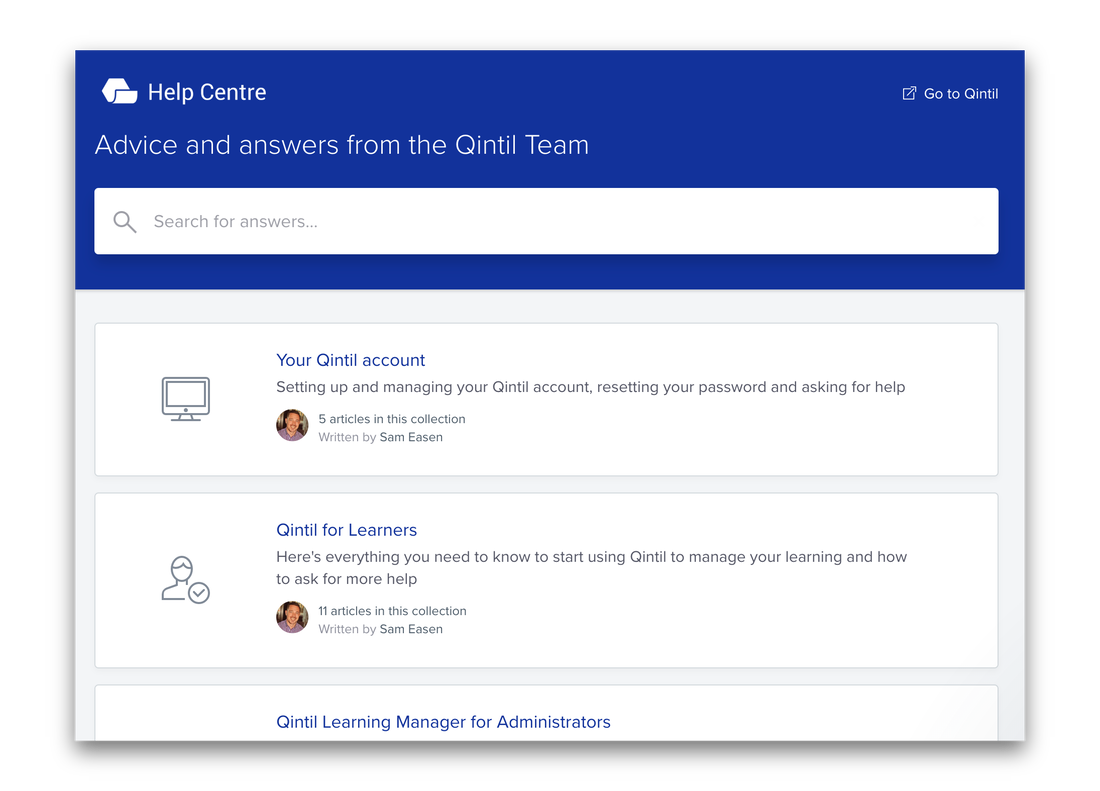 The Future of Qintil
Qintil provides an appealing interface and modern functionality that makes it a strong contender in the eLearning space. The CourseStore catalog continues to grow, with over 1,000 new items added in March 2018. The system also includes language courses as well as those focused on health, hospitality, technology, and social topics. There's a lot to discover, which makes Qintil's future a bright one. It also manages to cater to a large crowd, welcoming businesses, schools, and individuals. This gives it a wider reach which is likely to continue to grow its user base.
Qintil Simplifies eLearning
Qintil helps take some of the guesswork out of managing and using eLearning. The LMS serves as a distribution tool and a record-keeping platform to track progress. There are many helpful features related to compliance, which is a big plus for companies. The interface is easy to navigate, even for newcomers. Overall, Qintil offers all the things most organizations need to train in a clean, modernized package. The site also provides special discounts for non-profits and educators as well as startups and early-stage businesses. Users should contact Qintil to find out if they qualify for any discounts or to test drive a demo.