LMS.org's iSpring Learn LMS Review
iSpring Learn is a platform designed for corporate training with authoring tools and more. Users can build effective courses quickly and create a branded online learning environment. With iSpring Learn, you can easily engage trainees, award certificates, and track progress with reports. The system features an appealing look that's both modern and practical. Find out more about how iSpring Learn can help train employees, partners, or students.
iSpring Learn LMS Combines Practical Features & Intuitive Design
iSpring Learn LMS is a straightforward system designed to manage employee training online. Users will find a lengthy list of features that span all the core functions you'd expect from an LMS with a few refreshing extras. The developers also managed to create an attractive interface that helps the user along whether they are an admin managing back-end tasks or a student taking a class online.
What Do You Get with iSpring Learn LMS?
A long features list is a good thing, but only if those features are designed to be responsive and flexible. With many companies opting for eLearning over classroom training, a solid system is essential to success. iSpring Learn claims to provide everything the user needs to manage online courses in professional and academic settings. Does the system deliver as promised?
Custom Content & Unlimited Storage Space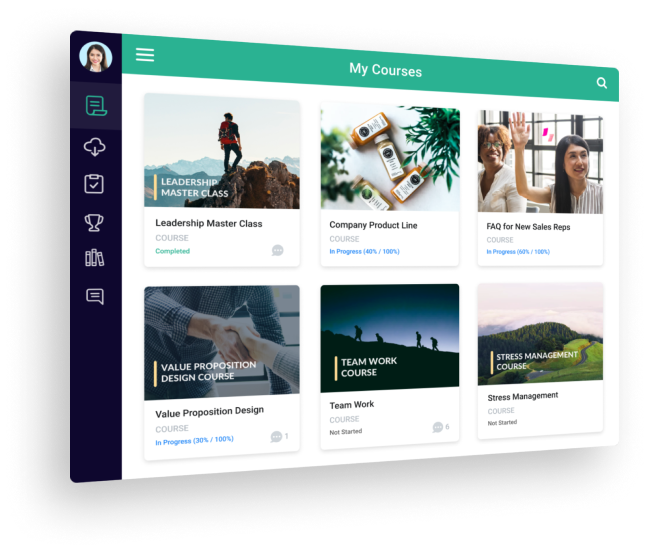 iSpring Learn supports a wide range of file types, including FLV. It's also SCORM-friendly, so users have nearly limitless options when building courses. The added benefit of unlimited storage space is very appealing, especially for users who plan to host multiple classes for a larger audience.
Organize with Departments
Departments are available to help account owners and administrators build the system to reflect their corporate structure. Easily manage all users in one place in a way that makes sense based on your business configuration.
Smart Group Control
iSpring Learn LMS offers smart groups that improve the way you manage administrator tasks. The LMS will group users based on the rules that apply to them. There's less guesswork and better security and control.
Automatic Enrollments
Save admins hours each week with automated enrollment. Instead of doing it all by hand, leave it to the automatic enrollments feature. The system will automatically enroll the right people in the courses they need based on rules set by the admin.
Assignments with Filters
Make sure everyone has access to the training content they need with assignments. Administrators can assign courses to individual employees based on their job role, department, group, supervisor or six other filter options.
Longreads Authoring Tool
Longreads is the newest addition to iSpring. This feature lets users create articles that include video, images, quotes, and knowledge-check questions. Courses can be built from scratch or by pulling material from existing resources. Copy and paste text, add YouTube or Vimeo videos, embed dialogue simulations, apply formatting, and more.
Organize Content with Chapters
Organization is important when it comes to learner success. Users can divide course content into different chapters within iSpring. These appear as separate modules that the learner can work through. Refine the focus of each chapter and allow trainees to jump to the topics they need.
Reach Goals with Learning Tracks
Learning tracks provide a way to guide students through courses to meet their educational goals. Customize the experience and build a logical sequence that lets learners expand their knowledge as they go. Due dates can be added to a learning path or chapter to ensure that learners are working through content in order and at the right pace. Notifications let employees know about updates and deadlines while enrolled in courses.
Gamification for Better Engagement
Gamification is included to provide more ways to engage learners. iSpring improves motivation by awarding points and badges for completing assignments and more. Inspire students to work harder and earn better ratings.
Webinars with Zoom
iSpring Learn supports webinars with Zoom. Train employees from a remote office, anytime. Keep training flexible without sacrificing quality or engagement.
iSpring Mobile App
Let users learn anytime, anywhere with the iSpring mobile app, which is free to download. Courses can be taken while offline. All progress and activity are recorded then uploaded to the LMS once the device connects to the internet.
Multiple Report Types
iSpring Learn offers a robust collection of built-in reports that help users track progress of individuals or groups of learners. For example, users with a supervisor role can monitor their team's progress on a specific dashboard. Robust reporting helps assess training programs and performance to make better decisions.
Events Calendars
Events calendars help users organize all activities in one place. Schedule workshops and live training in a single tab. Learners can be invited to training sessions, or users can send notifications about upcoming events or date changes.
Custom Branding
iSpring Learn portals can be customized to match the account owner's branding. Create a seamless experience for trainers and students. Add logos, favicons, and unique colors that blend with other corporate assets.
Automatic Certificate PDFs
Reward successful students with certificates of completion. Users can choose a pre-made template to make a certificate or upload a custom design. After setup, the certificate will be automatically awarded as a printable PDF once a student has completed the course.
Integration & API
Integration is made easy with SSO protocols JWT, OpenID, and SAML. Administrators
can pull data from the LMS into any other system using API options (REST and SOAP).
Domain Aliases
Paid doman aliases can be applied to display the user's brand or company name as the learning portal URL.
iSpring Learn Offers Everything in One Smart Package
iSpring Learn LMS has created a powerful system for training or teaching online. Integration features allow users to take the customizations further to maximize functionality and convenience. The interface is clear and refreshing. Unlimited content hosting and the added administrator roles are also a nice touch. Users can access a variety of reports that allow them to gain insight and maintain control over their training programs.
The Future of iSpring Learn
Thousands of companies rely on iSpring Learn LMS to train employees and boost performance. The platform currently supports over 2,800 companies around the world.
In 2021, iSpring Learn won the TMN Choice Award and was ranked among the Top 20 LMS Based on User and Customer Experience lists compiled by eLearning Industry. The iSpring Suite authoring toolkit earned the Brandon Hall Group Gold Award for Excellence in Content Authoring multiple times. The system continues to impress users and industry experts.
Train Better with iSpring Learn LMS
iSpring Learn LMS offers a comprehensive list of features that continue to draw attention. The system is highly customizable, sets fewer limits than many of its competitors, and offers a clear, attractive interface that's user-friendly. Anyone who wants a versatile, professional-grade LMS should consider trying iSpring Learn.