LMS.org's INDIE LMS Review
INDIE LMS brings an attractive list of features made just for entrepreneurs. The platform incorporates many tried-and-true tools like analytics, customization, and automation. Users can apply role-based policies, establish an affiliate program, and sell courses with subscriptions, bundles, and more. What will INDIE LMS bring to your business?
INDIE LMS Brings eLearning Solutions to Entrepreneurs
INDIE LMS is one of three eLearning platforms created by Cypher Learning. NEO brought the industry a host of features for schools and universities with an emphasis on student engagement. MATRIX introduced an LMS for the business world with cost-cutting features and effective training and evaluation tools. INDIE rounds out Cypher Learning's offerings with something for the entrepreneur. The platform promises simple solutions to sell courses online with many of the features found in the first two learning management systems. Does INDIE LMS deliver an intuitive, professional product for entrepreneurs?
What Do You Get with INDIE LMS?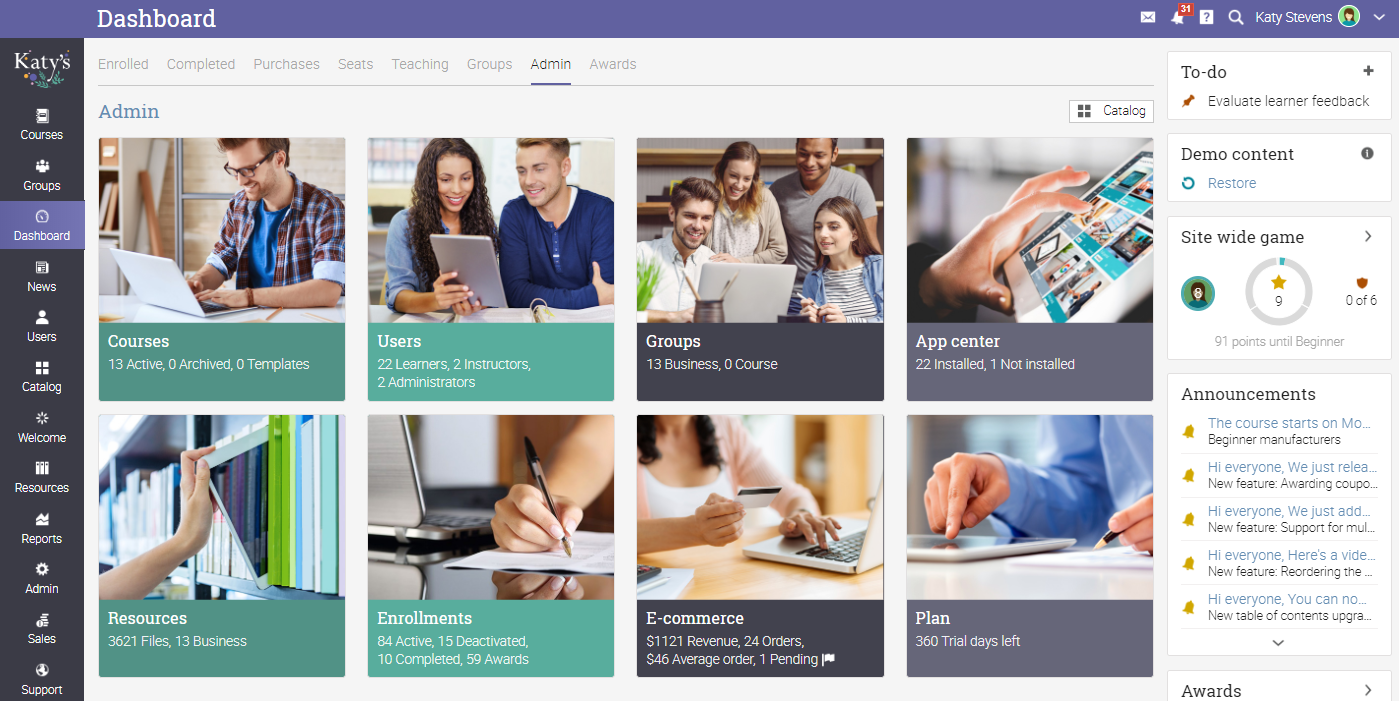 The training needs of a businessperson are similar to those of a teacher or corporation, but with different goals, requirements, and limitations. It takes a lot to make good on the title of "world's best LMS for entrepreneurs" as described on the INDIE homepage. What should you look for when trying out the system for the first time?
 Hassle-Free Course Builder
Entrepreneurs won't have to spend time learning code to build courses with INDIE. The LMS includes a hassle-free course authoring tool that allows the use of a wide range of media. Create effective learning material that utilizes video, audio, Google Docs, or MS Office documents.
Create Custom Certificates
Award learners with certificates upon completion of courses. These are fully customizable. Add your branding, graphics, text, and more. Users can also associate a PDF version to allow certificates to be downloaded and printed for learners who want a hardcopy to save or display.
Share a Graphical Catalog
INDIE incorporates beautiful visuals with its features. The course catalog favors a graphical approach with images and attractive panels. Each displays details like description, certificates, content outline, rating, and more.
Just like the catalog, the user dashboards also favor an attractive tile-based design. The displayed information changes based on the user's role. That gives learners, admins, and instructors access to all the essential information they need as soon as they log in to the platform.
 Supports Over 40 Languages
Users can present a localized experience with languages. INDIE supports over 40 languages. Forum posts and messages are automatically translated between users when interacting with people who speak a different language. The current list includes Italian, German, Spanish, Swedish, Portuguese, Russian, French, Latvian, and many more.
Actions can be set up to trigger after certain tasks are completed. Users can choose a type of action like enrolling a learner in a course, awarding points, sending a custom message, or unlocking a module. Rules can also apply that chooses actions based on course, group, or account.
Create Drip Content for Timed Delivery
Users have complete control over how and when their content is delivered. Allow learners to access everything at once or choose the drip method. Course creators can add a schedule that will unlock a module after a chosen length of time.
Built-in Gamification with Leaderboards
Gamification gives learners more reasons to participate. INDIE includes a point system with levels. The user can define how many points are needed to move up. Badges can be awarded. Learners earn a place on the leaderboard to see how they rank among their peers. Courses can also contain games for a more engaging experience.
Ratings, Reviews, and SEO
INDIE includes all the basics needed to be successful online. Learners can leave ratings and reviews for courses to make them more attractive to newcomers. The system is also equipped with built-in SEO features to maximize reach and search result ranking.
Choose Your Payment Gateway
Choose your favorite payment gateway to use with INDIE LMS. The system works with many popular services. Choose from Paypal, PayU Latam, Stripe, Authorize.net, PayUbiz, and more. Multiple currencies are also supported.
Offer Subscriptions or Bundled Courses
Package course content any way you like with INDIE. Users can sell subscriptions that give learners access on a monthly or yearly basis. Bundles are also supported so that related courses can be sold as one unit. Generate interest by offering discount and coupon codes.
Sell Additional Media in the Course Catalog
INDIE's course catalog isn't just for classes. Users can also sell digital media resources as standalone options. Offer audio, video, or ebooks through the catalog to create an all-in-one selling tool.
Affiliate Programs Supported
Establish your own affiliate program with INDIE LMS. Accept affiliates who can earn commission by referring users to your courses. You choose the commissions and will receive notifications when customers buy through an affiliate link. Pay affiliates using Paypal and generate related reports to track performance.
Social Learning with Groups and Chat
INDIE also facilitates social learning. Users and learners can create friends lists and send messages through the system. Instantly connect to another user with one click. Create forums and chat rooms or build groups to share resources and collaborate.
Administer Surveys and Quizzes
Track progress or get feedback with INDIE's surveys and quizzes. Results are provided instantly, so learners know how they did right away.
Gain insight into overall performance or identify problem areas using INDIE LMS analytics. Find out which content is performing the best and which could use improvement to maximize earning potential.
Custom policies can be created on a site-wide basis or per account type. Create policies that apply to instructors, learners, or administrators. These can also be set up as cookie or privacy policies that must be accepted before a user can access the platform.
INDIE LMS provides greater flexibility through integration. The system works with several popular third-party products. Connect with Panopto, MailChimp, Google Drive, Zapier, CCF, QTI, and more. Enable or disable features with easy installation and configuration.
INDIE helps protect against user error with a 30-day trash can. Deleted courses, modules, and other resources are stored for up to 30 days before being permanently deleted. That gives users about a month to restore items that were accidentally removed.
A Powerful Solution for Entrepreneurs
INDIE LMS is a powerful solution for entrepreneurs. The platform includes everything needed to teach, sell, and market. Users can build attractive catalogs and optimize for SEO to reach a wider audience. Sell courses and supplemental materials in one space and accept payment in different currencies through preferred payment gateways. It's an ideal combination of business and educational features for ambitious sellers.
The INDIE LMS Environment
The INDIE environment feels updated and clean, with attractive elements like images and a tile design. It's both beautiful and functional, making it easy for even tech novices to dive right in. The platform also takes much of the work out of setting up and selling courses. No coding is required, so users can focus on their industry, product, or field of study and still have time to tap into an online market.
Who Uses INDIE LMS?
INDIE LMS is intended for entrepreneurs. It provides a tailored features list that covers areas that individual sellers and small businesses need. Users can get started quickly and with minimal effort. It also incorporates additional selling tools like affiliate programs, coupon codes, subscription service, and course bundling. Companies that sell courses will appreciate the flexibility offered by the platform.
Supported Devices & Platforms
Users can access INDIE LMS from anywhere. The system works on modern browsers. It's fully responsive for mobile users as well. Native apps for Android and iOS are available. An offline mode is in the works with plans for release later this year.
INDIE LMS Customer Service
INDIE comes with a few customer support options. All users can access guides and how-to videos. There is a learner help desk as well. Rapid-response tech support is also provided at all subscription levels. Users can log in to their account to access a support link for assistance. A local phone number for Cypher Learning's headquarters is provided on their website via the contact page.
The Future of INDIE LMS
INDIE LMS is a relatively new platform introduced in January 2018. There are plans for expanding some features this year, including the addition of an offline mode and access to the iOS app for more subscribers. There's already a long list of features that are sure to attract entrepreneurs. The user base will likely grow as the platform introduces new features and refines its current offerings.
INDIE Rounds Out Cypher Learning's LMS Offerings
INDIE LMS has a lot to offer entrepreneurs who want to tap into the eLearning market. The platform rounds out Cypher Learning's offerings, making the company the only one currently offering an LMS in three major eLearning sectors, including business, education, and entrepreneurs. INDIE benefits from the first two by adopting some of the same powerful features. It's customizable, incorporates automation, and gives users everything they need to build, manage, and sell their courses online. A free trial is available so that users can take a test drive before committing.