GO1 Learning Management System Review by LMS.org
GO1 gives users a combination of content and practical tools. Create courses or import pre-made content from the marketplace. Customize what the learner can see by building portals with logos, header images, menus, and more. Users can establish groups, save custom reports, and view data in a variety of ways. GO1 has a lot to offer businesses of all sizes.
GO1 LMS Combines eLearning Tools with Information-Rich Content
GO1 LMS provides a platform for organizations that need training for their team or workforce. A wide range of features is included to streamline the process and provide better progress tracking and flexibility. What users will also find is a huge library of courses that they can use to build and strengthen their training programs.
What Do You Get with GO1 LMS?
GO1 LMS offers an excellent balance of practical features and advanced functionality. Users can train on their terms with customizations and more. Tailor content by language, create custom welcome messages, and build unique portals. Users who try GO1 for the first time will find:
1,000+ Course Content Library
A content library containing over 1,000 courses comes with GO1. Users can implement their own content or build a new training program from the ground up. A variety of topics are covered in popular fields including soft skills, compliance, and professional development. Custom content packs can also be provided.
Versatile Search & Filter Options
With so much content to comb through, it's important to have a quick way to find what the user needs. GO1 allows users to search a number of ways. Filter by location, enrollment status, provider, vocation, keyword, language, and more.
Custom Options & Dashboards
Create a personalized experience by customizing the LMS. Users can upload an image banner and logo to display in portals. Welcome messages can also be added for an experience that's relevant and inviting to learners. Turn footers and side navigation on or off and choose which menus, payment options, course authors, groups, and discussions to display.
Detailed Learner Dashboard
The learner dashboard is a hub of all activity and updates. Progress is displayed along with due dates, upcoming activities, and completed courses. Trainees can access certificates earned or see if they need to renew a certificate for compliance.
Drag and Drop File Uploads
GO1 makes it easy to upload files to courses. The system accepts all popular file types including Word Docs, PDF, POT, POTM, XLS, PPS, and more. Users can upload files of up to 20 MBs at a time.
Built-in Discussions for Groups
Discussions add an interactive layer to groups and classes. GO1 includes a discussion tab where users can participate in conversations related to a specific course or a broader topic. Every group created has its own discussion board with tagging capability.
Versatile Portal Settings
The portal serves as a gateway to your training content. GO1 offers a number of ways to create a portal that works for the user. Administrators can easily navigate from one portal to another.
Structured Courses
Building a course with GO1 is easy thanks to its design and versatility. Each field is easy to understand so users can input the details or information required and move on. The system also provides a variety of module types that can be added, including text, document, interactive file, video, LTI tool, weblink, assignment, quiz, fill in the blank questions, matching questions, and multiple choice.
GO1 helps administrators work faster and more efficiently by providing access to all system information in one place. See enrollment, course progress, and available actions. Admins can filter at multiple levels using criteria like title, status, user, course, and more. Every course can be viewed with its own reporting section that includes convenient search filters.
Users can train offline with GO1 LMS. The system lets users add events like conferences, meetings, face-to-face training sessions, webinars, and more. Track attendance, add documents or resource links, and manage all learning types.
Users who want access to more content can turn on GO1's marketplace app. It is currently the largest in the world with over 400,000 courses to choose from. Access free and paid content. Hand-picked content can also be offered with premium packages.
GO1 also provides a service called Training Assist. The team will source face-to-face training for clients at a discounted rate. Users can save time usually spent searching for and booking courses. All related activities are tracked and reported through the LMS.
Multiple data views are available so users can obtain information in a way that works for them. Alternate between tables, pie charts, calendars, bar charts, stats, histograms, or pivot tables. Pivot tables include drag-and-drop designs that let users choose headings from a sidebar that can be dropped into the table. Custom reports can be saved for access later.
A Powerful Combination of Options and Information
GO1 LMS presents a powerful combination of options and information. Users can create portals and display information that's relevant to their audience. Quickly locate vital data to make quick decisions about courses, content, and more. Build unique content or instantly access pre-made content. GO1 lets users create an effective training course in just about any topic a business or organization could need.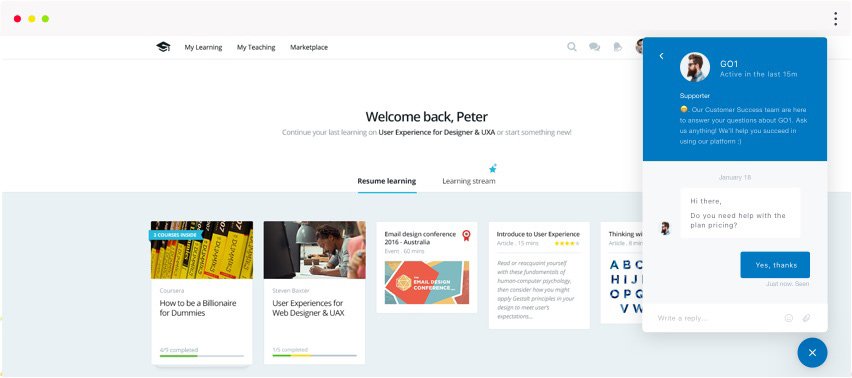 The GO1 LMS Environment
Design can hurt or help an LMS. GO1 offers an attractive features list combined with a straightforward interface. The experience is pleasant and modern. Users can access essential features with a click or two. While things like reports can get pretty deep, GO1 manages to present information in a way that's digestible and manageable.
Who Uses GO1 LMS?
GO1 LMS is a great choice for organizations and businesses that need a better way to manage team training. The system already serves an impressive client base that includes Robertson, Adshel, Secure Parking, ComparetheMarket.com.au, and the government of New South Wales. The available subscription options make it a good choice for businesses of all sizes, from those that employ under 20 people to those with hundreds to train.
Supported Devices & Platforms
Learners and users can access GO1 from any device with an internet connection. Portals are available on the web, which creates limitless possibilities when completing tasks or training outside of the office or classroom. Android, iOS, and Windows devices are supported.
GO1 LMS Customer Service
GO1 also excels when it comes to customer support. Users are given access to a global team and customer success managers. Someone is available to assist 24 hours a day, seven days a week. Users can also access guided walkthroughs for setup as well as a help center with resources that answer basic questions. Users can visit the site and use the live chat box to talk to a person or search for an answer.
The Future of GO1 LMS
GO1 has earned high marks from users and industry experts alike. FinancesOnline awarded the LMS 2018 Great User Experience and Rising Star awards. They also announced a partnership with Skillsoft earlier this year that added another 300 business and leadership courses to their catalog. As the system and its offerings continue to expand, its user base will likely follow suit.
Everything a Business Could Want in an LMS
GO1 has packaged everything a business could need into one LMS. The platform lets users work the way they want to. Manage setup on your own and use the tools included or contact the GO1 team to request a custom course package, dashboards, and more. The system is already connected to a vast content library, which gives some users a head start when creating or improving their training programs. Overall, GO1 manages to touch on all the features that most organizations want to see in their LMS.