GoToTraining Learning Management System Review
GoToTraining has created a user-friendly interface that's feature-rich and ready to use. Getting started is easy, with intuitive menus and a welcoming design. Sell classes and accept payment online or build a library of resources for your trainers. Users can record sessions, break classes into smaller groups, and encourage engagement with in-session activities. GoToTraining takes the guesswork out of eLearning tech.
GoToTraining Brings Powerful Ed Tech for Easy Online Training
Industry experts are valuable to their employers. These are the people who are best suited to share their knowledge and teach ambitious new employees who are expanding their skill set. Online training continues to rise in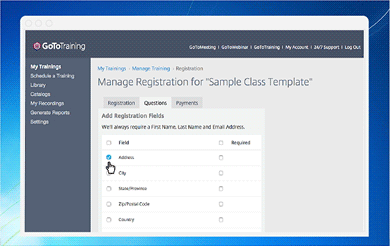 popularity, especially this year. With more companies relying on remote teaching, it is more important than ever to have a solid setup on the tech side of the equation.
That's where LogMeIn's GoToTraining comes in. The platform provides the tools needed to educate your audience. The developers have packed powerful solutions into a lightweight LMS to give businesses a leg up on the training front. Your experts can focus on their areas of expertise and stop wasting time learning how to use complicated programs or coding.
GoToTraining handles the technical aspect, with easy distribution of courses, custom learner enrollment, progress monitoring, online payments, and more. The service sounds exciting, but does it offer the value that business owners, managers, and trainers want for their teams?
What Do You Get When You Teach with GoToTraining?
The first thing to look at when considering an LMS is the features list. This is where you'll discover what the platform can and cannot do for you. GoToTraining provides a robust collection of tools that cover a broad range of functions. What should you look for when test driving the system for the first time?
In-Session Student Activities – Better engagement leads to an increase in learner satisfaction. In-session activities give classes ways to remain engaged during each class. Trainers can get students involved by watching videos, viewing uploaded material, or accessing files on Google Docs. Everything happens in real-time so that trainers can supply advice, guidance, or answer questions.
Share Whiteboards with Classes – Whiteboards are among the most versatile of training tools. GoToTraining lets users share their whiteboards with the class. The full image is shown with real-time updates to recreate the experience of an in-person classroom. Write words, draw diagrams, or help illustrate the relationships between concepts or ideas in a way that is visible to everyone.
Customized Enrollment Forms – Enrollment is quick and easy with GoToTraining. Invitations can be sent by email or posted on social media. Users can gather learner details by building forms with expanded fields and custom questions. Capture the information you need efficiently for faster enrollment.
Get Feedback with Tests and Polls – Tests and polls are a great way to get feedback. Find out how students felt about a course or administer tests to check knowledge retention. GoToTraining supports both with immediate results.
Work in Groups for Better Engagement – Smaller groups often make learners more comfortable and willing to participate. GoToTraining includes breakouts, which divide the class into smaller groups. Choose up to six breakouts and encourage learners to discuss and share their work.
Issue Certificates of Completion – Celebrate success by issuing certificates of completion to students who finish courses. When enabled, a link to a digital copy of the certificate is sent in a follow-up email. Certificates are available with plans of 50 attendees or more.
Generate Reports for Key Data Points – Data is essential to improving and expanding your training program. GoToTraining includes built-in reporting tools. Break down information related to session attendance, test results, registration, and more. Pre-made report templates include registration, evaluation, test, and training history.
Encourage Class Participation – There are multiple ways that learners can participate in classes. GoToTraining offers chat messages as well as a hand raising action. The hand raise allows students to signal that they have a comment or question without interrupting the trainer or being overlooked.
Desktop and Application Sharing – Some courses may require trainers to share their desktops or a third-party application. GoToTraining supports both. Users can broadcast their desktop or apps to show learners how to use programs or to provide more content options. Trainers can also share webcams for an authentic in-person classroom experience without being there in person.
Centralized Content Library – The content library serves as the trainer's centralized resource hub. Almost anything can be stored there. Add evaluations, polls, tests, materials, and more. Changes made to items in the library are automatically applied to all copies that are in use across the LMS. Each item can be reused an unlimited number of times.
Record Training Sessions – Online training offers the benefit of creating content that can be saved and shared. GoToTraining includes a session recording feature. Trainers can record a class and save it for future use or allow attendees to view it afterward as a refresher. Online recordings are saved on the My Recordings page of the user's account. Local recordings are saved to the user's computer.
Earn Revenue with eCommerce – GoToTraining's RevStream system allows users to earn money for their courses. The integrated payment processing feature can be enabled to accept payment through PayPal, by credit card, or using an alternative payment method during registration. The user sets the price, can accept multiple currencies and can issue partial or full refunds if needed.
Easy LMS Integration
Users can visit the GoTo Marketplace to find a long list of apps that integrate with GoToTraining. The market currently offers support for CirQlive, Docebo, and Vitalect when filtering by GoToTraining. Get the functionality your team needs with a versatile eLearning solution.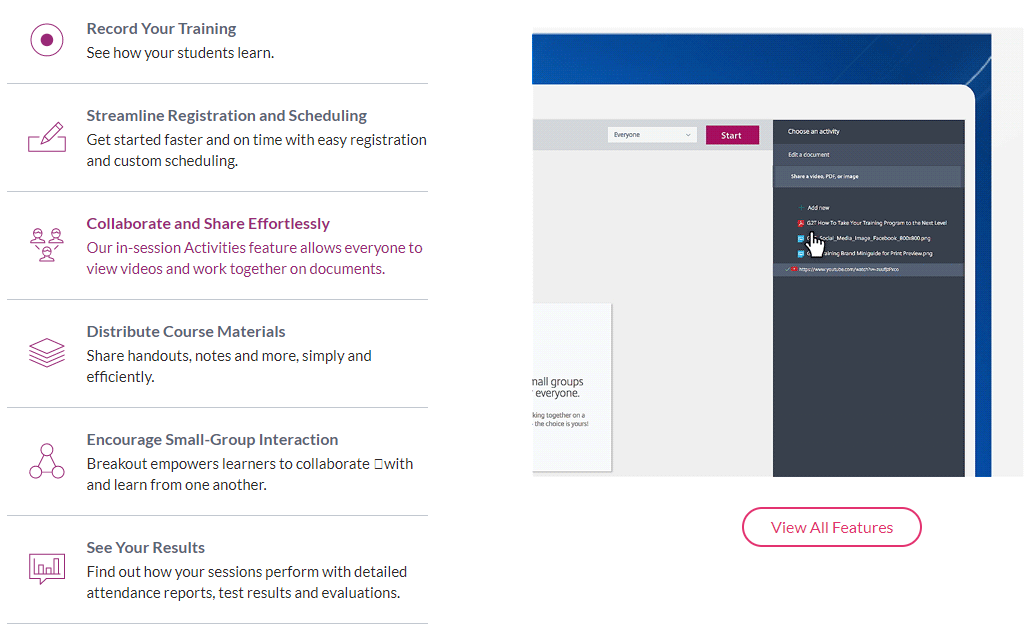 GoToTraining Revolutionizes the Way We Train Employees
GoToTraining combines features that make it an ideal choice for online only and hybrid training situations. Round out the learner experience by offering a flexible online course or reach a larger audience with no geographic boundaries.
Users can add different content types to their courses like PowerPoint presentations, videos, whiteboards, and documents. Everything is displayed in an easy-to-use format that doesn't require advanced technical knowledge to set up and distribute. Simplify registration, accept online payments, and generate reports with just a few clicks. You can also use GoToTraining with other platforms to expand functionality.
GoToTraining Accessibility
As of a January 16th, 2019 post on the LogMeIn.com community forums, no support is available for visual recognition software. At the time of writing, the LogMeIn support knowledge-base search contains no results for "accessibility." No further information for accessibility is available at the time this review was posted.
The GoToTraining Environment
The GoToTraining environment is just as pleasant as it is professional. The LMS has created a clean, modern interface that makes sense. While it caters to a professional crowd, it still manages to add personality with hints of color and an inviting design. The whiteboard looks like a real whiteboard, data is displayed graphically and numerically, and the menus are easy to navigate.
Who Uses GoToTraining?
GoToTraining is an appealing option for businesses and educational institutions. If you are only training a few people, then you may not find a subscription size that works for you. However, if you are training 25 or more people, then the platform has much to offer. Three subscription options are currently provided, including 25, 50, and 200 attendees.
Supported Devices & Platforms
GoToTraining supports the most popular mobile platforms. Users can access the system through a desktop or laptop PC, a tablet, or their smartphone. The InstantJoin app, which allows learners to jump right into a session, only works on Windows and Mac computers. If you have a mobile device, you can instead use the native apps for Android and iOS.
GoToTraining Customer Support
There are a few ways to get customer support. Users are advised to first consult the knowledgebase provided on the GoToTraining website. The base is easy to search and contains a wealth of detailed information with handy links and clear instructions.
For those who cannot find the answer they need, there are "Ask Our Community" and "Call Support" options. Newcomers can start or participate in discussions to get help from seasoned users on the community page. Recent and featured discussions and top contributors are highlighted on the community homepage.
To speak with someone on the phone, the user is asked to provide their email address. This allows tech support to gather your information before the call so that they are ready to provide assistance. The email address step can be skipped if the user wants to jump right to the toll free or local phone numbers.
The Future of GoToTraining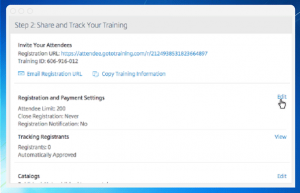 GoToTraining has already earned high marks from users and their homepage boasts impressive statistics. Approximately 60% of organizations increased employee productivity by 26% when switching to the platform. GoToTraining hosts over 700,000 trainings for more than three million attendees annually. Over 70% of students rated the LMS as "excellent" or "very good" when asked for feedback.
The team behind the platform has shown that they care about the customer experience. GoToTraining was overhauled with a list of new integrations and a roadmap in place for this year onward. The team's commitment to the customer earned them the title of Gartner Peer Insights Customers' Choice for Meeting Solutions again this year.
GoToTraining has a strong foothold in the eLearning industry. With awards, glowing reviews, testimonials, and an impressive features list, the system is likely to remain at the top for the foreseeable future.
The Flexible Online Training Solution for Businesses
Educators and businesses that are searching for a reliable learning management system should see what GoToTraining can do. Three packages are available along with an option for educational institutions to speak with a salesperson.
Users can create, distribute, and manage courses with ease. The system handles the back-end tech so that trainers can focus on their strengths. It is a powerful time-saver packed with features that range from ecommerce to session recording, mobile apps, and more. Users who want more out of their LMS should check out GoToTraining.