eLucid Learning Management System Review by LMS.org
eLucid presents all the components you need to train successfully. The system works for any industry. Users can distribute content on a schedule, track progress with analytics, and communicate with learners through built-in messaging. PitchPrep uses real-time scenarios to train salespeople while learning games make education fun for all trainees. The platform is highly scalable and includes enterprise-level features like custom branding and modular architecture. What makes eLucid a strong competitor in the LMS industry?
eLucid Revolutionizes Corporate Training with a User-Friendly Ecosystem
The minds behind eLucid describe the platform as an "LMS on steroids." The system offers corporate training solutions that encompass all the basics a company could need and more. Constructed on a Moodle foundation, the feature-rich environment promises functionality that covers the three main parts of the training process: learning, practicing, and testing. Does the modern interface and enticing features list provide the components organizations need to produce a skilled workforce?
What Do You Get with eLucid LMS?
eLucid includes a combination of practical functionality with a touch of personality. The interface is pleasing to the eye and makes it easy to locate the system's many features. The official website outlines some big promises about what eLucid can do. Does the platform supply the features needed to live up to user expectations?
PitchPrep provides a way to assess the aptitude of sales reps. This feature puts the trainee into a real-time scenario using videos. The rep responds with a presentation that their supervisors, managers, or senior reps can evaluate. Feedback is time-based, so it appears in the trainee's presentation right where it is relevant. There's no guesswork and no searching for the right part when the trainee goes over their trainer's review. Trainers can favorite the best pitches and share them with the rest of the class.
JavaScript Enabled Quizzes
Keeping the integrity in online learning can be difficult because students have the internet at their fingertips. eLucid's JavaScript enabled quizzes help prevent cheating by stopping and recording learner activity. The learner cannot open multiple browsers or switch tabs while taking a quiz. If they do, the attempt is logged in the system.
Interactive Training Videos
Interactive training videos are more engaging for users. Engagement can translate into better information retention and overall success. Trainers can add pop-up questions to video content. The student can answer questions related to what they just watched and see if they were correct or if they need to view the material again.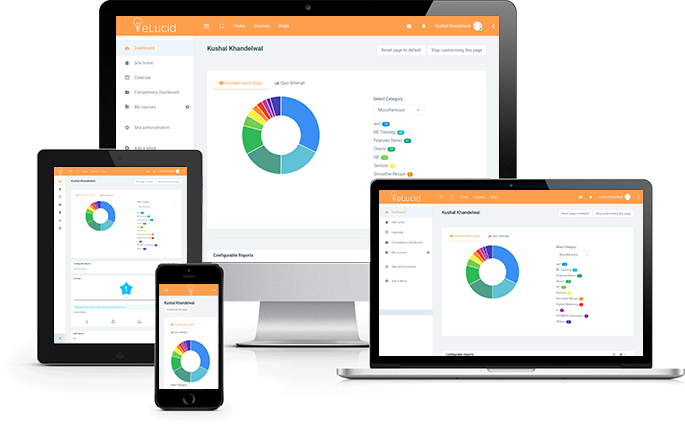 eLucid includes built-in gamification to help further learner engagement. Activities can be assigned points that the user earns for completion. For example, completing an interactive video, quiz, pitch, or maintaining a certain grade level can earn points. These accumulate on the user's profile to gain levels.
Comprehensive User Dashboard
Teachers and students have access to a comprehensive dashboard that displays relevant information. They can view the number of courses completed or in progress, status, and more. This area provides an at-a-glance overview of where the user is, what they have done, and what they need to finish.
Game-Based Learning Activities
Several learning games are included with eLucid. Choose from classic Snakes & Ladders, Hangman, Memory, and more. A question will appear that the player must answer correctly to advance in the game. For example, a correct answer in Snakes & Ladders will earn the player a roll of the dice. An airplane shooter game is also included that requires the user to shoot down the enemy planes with the correct answers to win.
Learners do not have to have an internet connection to complete quizzes. Offline quiz attempts are supported. The answers can be validated using Optical Character Recognition technology that translates images for the LMS. Submitted images can contain handwritten, typed, or printed responses.
eLucid is equipped with a messaging system that lets students and teachers stay connected. No third-party applications are needed to utilize chat. Learners can ask trainers questions, request advice, or discuss problems within the LMS. In-course chat boxes can also be enabled.
Drip Feed Training Content
Users can remain in control of their content delivery schedule with eLucid's drip feed distribution. Continue engaging users by spreading content out over weeks, months, or the year. The time-based system lets content become available to enrolled students on a custom schedule.
A meeting scheduler is included with eLucid. This feature lets users organize appointments with students without the use of a third-party product. Trainers can select available time slots and limit access to them to specific students or groups.
Time-Sensitive Enrollment
Courses can be created with time-sensitive enrollment. Choose an end time that students must sign up by to participate. A countdown timer will be displayed to let visitors know how long they have to commit to the class. Enrollment expiration reminders can be sent to students via email.
eLucid also gathers information for users. An extensive tracking system is included that records a wide range of information. Data can be compiled into customizable graphs that display progress and student activity.
Consolidated Learner Feedback
All grades and feedback received by a learner are consolidated into one easy-to-view report. This includes grades for assignments, quizzes, and workshops. Students can see how they performed overall and look for any problem areas that may need to be addressed.
Enterprise-grade features are also provided with eLucid. These make the LMS completely scalable for growing companies. Users can incorporate custom logos, color schemes, and more so that the learning environment blends with their branding.
eLucid lets users integrate with their favorite third-party apps. The system currently supports integration with Skype, LinkedIn, WooCommerce, Google Apps, WebEx, Zoom, Zapier, MS Dynamics CRM, Dropbox, SugarCRM, Alfresco, ZenDesk, PeopleSoft, WordPress, and virtually anything and everything.
A Do-It-All LMS for Businesses
eLucid combines a number of practical and advanced features into one user-friendly platform. The system does just about everything a business could want it to when training. Users can easily enroll new trainees, build engaging course content, and distribute it all at once or on a schedule. Analytics is included, so organizations can track progress and look for knowledge gaps or identify high-performing courses. There are additional customization options and a variety of ways to keep learners engaged and improving.
The eLucid LMS Environment
eLucid offers a polished learning environment that's also personable. Newcomers will feel welcome with clean icons, navigable menus, and more. Figuring out the interface takes minimal effort, which is good news for users who are not tech savvy. The LMS does most of the heavy lifting for users then delivers the data in an organized, easy-to-read format. Overall, eLucid offers friendly atmosphere that makes learners feel comfortable without losing any professionalism.
Who Uses eLucid LMS?
eLucid currently serves a variety of users. It is best suited to professionals. The system includes enterprise features with corporate-level scalability. Subscription options start at 100 active users and go into the thousands, making it an attractive option for small to large size businesses. It is especially attractive to organizations that have an LMS but want to upgrade to a platform with more flexibility and functionality.
Supported Devices & Platforms
eLucid supports PCs, tablets, and mobile devices. The system is compatible with Android and Apple products. The mobile version includes offline tracking and access. Once the user obtains an internet connection, the mobile app will automatically sync with the network. It's convenient and provides more options for trainers or students who want to use the system everywhere they go.
eLucid LMS Customer Service
Potential new users can contact the eLucid team through the contact page on their website. An online form, email address, local phone number, and social media links are provided. A personalised demo can also be scheduled. A corporate training specialist is available to answer questions. Users will have to consult their current subscriptions to determine what customer service options are available.
The Future of eLucid
eLucid has already proven its worth in the eyes of its users. The system is utilized by several recognizable brands including HDFC Mutual Fund, Media.net, Hubble, TATA Capital, and the educational institution VIBGYOR High. The LMS was introduced in March of 2017 and has grown significantly since then. It has a lot to offer users who want more functionality in one platform. It will likely continue to thrive as more users explore its ecosystem and features.
A Powerful eLearning Ecosystem for Corporate Users
Corporate users who want a solid all-purpose environment for their training programs will appreciate what eLucid has to offer. The system includes tried-and-true features like reports, chat, and gamification. There are also several unique extras, like PitchPrep scenarios that allow sales reps to hone their craft before coming face-to-face with a potential client. The system doesn't just instruct, it also makes learning fun and interesting with educational games, leaderboards, interactive videos, and more. It's scalable, customizable, and easy to master. Businesses of all sizes will discover many reasons to give eLucid LMS a try.