Finding a theme for your LearnDash site can be a tricky affair. With so many options available in the WordPress market it can be daunting to hit upon the one that's right for you. 
However, differentiating between the right and wrong e-Learning themes comes down to 9 simple points. 
If you know those points, you can easily select a theme that not only looks good but also works seamlessly with your site. 
And that's precisely what we're going to discover in this article. So, without any more delay, let's get started!
#1. Sleek and Responsive User Interface and Layout
The first and most important thing about any theme is its layout and user interface (popularly known as UI). 
If the layout of a theme is not good from the perspective of both mobile as well as computer screens, you may lose a lot of customers right from the beginning because the content won't show up properly. 
One layout option that works best in all types of screens is the Grid layout – it works because of the flexibility. 
The size and positioning of grids adjusts very well to fit properly in all sorts of screens. It also works because it separates the content area from other UI elements very well, so if you want some changes to be done to the theme at a later stage with help of any developer you can get them done easily. 
Take a look at the Grid layout we have designed for eLumine; it covers all the essential details of the course in a short and succinct way that's easily readable irrespective of your screen size.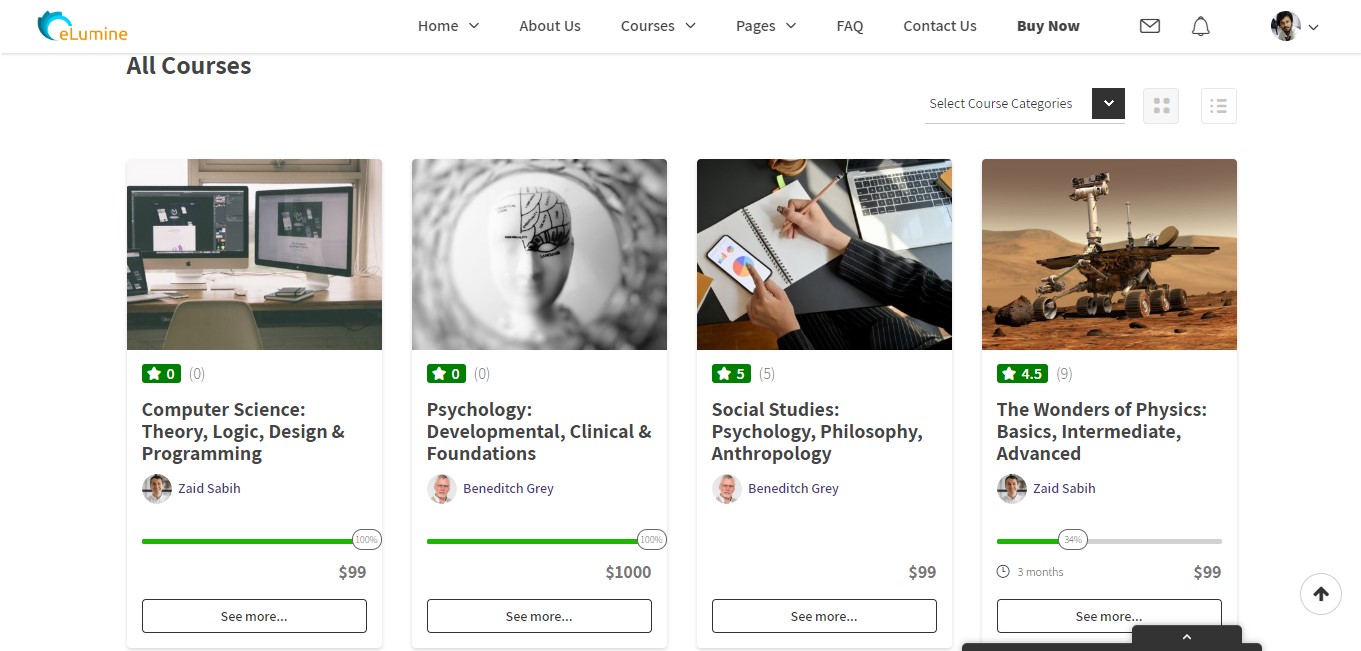 Example 1: Grid layout
That's the reason why there's an official LearnDash Course Grid add-on to create e-Learning websites with grid layout using any type of theme. 
#2. Well-built Ready-to-Import Demo sites
Ready-to-import Demo sites – or starter sites, as they're popularly known – are built by theme developers to give you an idea of what your final site will look like (check the LearnDash demo site for example). Now, developers also offer the feature of importing demo content into your site after installing and activating the theme, so you can easily replace it with your own content to set up your site. This saves you from the time that would have been spent in trying to figure out how to fill the content in various parts of the theme for desired appearance. So make sure that whichever theme you choose has got a well-built demo/starter site along with the functionality of importing demo content. 
#3. Support Quality
The best themes are not developed all at once – they're developed systematically, continuously. Developers of such themes continue to roll out updates on a regular basis to ensure their security, stability and compatibility with new versions of WordPress. 
They also keep learning from the experience of their users, and help them out whenever something goes wrong with their websites. These regular updates and the help from developers is collectively known as "Support" in the WordPress community. 
When you're selecting a LearnDash theme, you should ensure that the quality of support offered by the developers of your selected theme is great. 
Ensure that they roll out the updates regularly, and help their users by hearing their issues in relevant forums. You can check this by reading some reviews of the theme. Read both good as well as bad reviews to determine if the quality of support offered by the developers is actually top notch, so you don't run into a situation where your theme isn't working properly and you don't know where to seek help. 
#4. Customizer options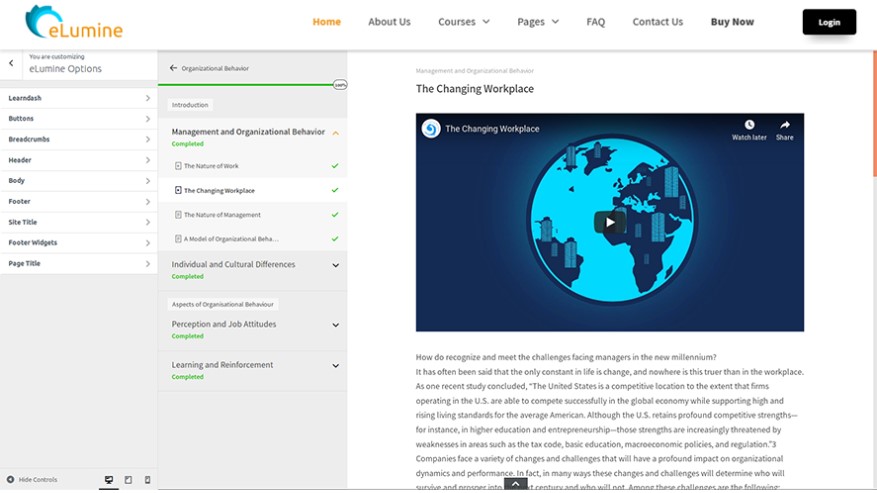 Example 2: Rich Customizer Options
As a WordPress user you might have used its Customizer many times to tweak the appearance of your site. However, the capabilities of WordPress customizer are also determined by the design flexibility offered in your theme. If your theme doesn't allow much changes, there's no way you can play with the looks of various elements in your LearnDash website. To ensure that this doesn't happen you should also check how many areas of your theme are customizable. In an ideal theme the styling, colors and fonts of various page elements should be easily customizable. 
#5. Multilingual and translation ready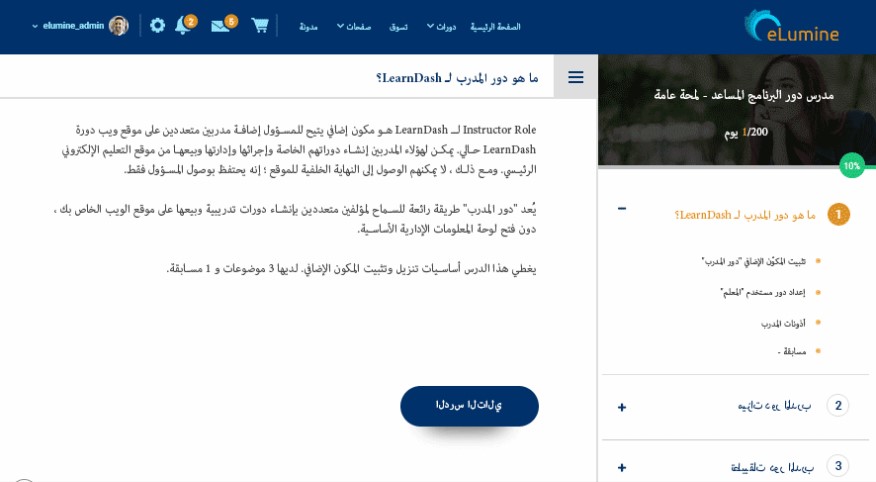 Example 3: A theme with multilingual and RTL support
The world is multilingual today, and so should be your site. You may receive visitors from multiple countries, and if those visitors do not understand the content on your site then why would they want to spend even a minute on your site? That's why you need to have multilingual support in your LearnDash theme. Make sure whichever theme you choose for your site is translation ready and capable of showing content in all popular languages without any issues. A good translation ready theme is one which comes in multiple languages, includes RTL support and is compatible with the popular multilingual plugins in WordPress, such as the WPML multilingual plugin. 
#6. Optimized for conversions
Conversion optimization is the art and science of increasing the percentage of your visitors who convert into customers. A good theme is one which has been optimized for increasing conversions. Without conversion optimization you may struggle to earn any significant revenue from your site even after having lots of traffic, so it's imperative that your site is optimized for conversions. And here's how you can ensure that the theme you choose is helpful in conversion optimization of your site:
Conversion optimized checkout pages:

The cart page and checkout page of your site are unarguably the most critical pages. These are pages where people reach once they've decided to make a purchase. A conversion-optimized checkout page includes minimum distractions, large and prominent checkout button and clutter-free forms. For example, there are themes that allow elimination of the header, footer and everything in between to achieve a clean layout on the checkout page. 

Cross-selling and up-selling widgets:

These are widgets that display the related products on every product page, thus creating new sales opportunities for your site.  For example, if you're selling multiple courses on your site, and any two of them are related to each other, a widget will display each of them on the page of each other to help learners find both courses easily. This creates new revenue generation opportunities on your site, and support for these widgets makes a theme more conversion friendly. 

Beautiful opt-in forms to generate leads:

Large and beautiful opt-in forms that capture the interests and information of visitors are also essential for revenue of an e-Learning website. The leads generated through these opt-in forms are some of the best sources with sales potential, so ensure that the theme you're choosing includes support for opt-in forms and exit pop-ups as well.
There are other conversion optimization related features too that should be there in any LearnDash theme, but these 3 are the most important ones. 
#7. Responsiveness
Compatibility with your existing plugins and requirements is a must. Without this, your site (or some of its features at least) may break down as soon as you activate the theme because of compatibility issues. The ideal way to test it is with help of a dummy site – you can easily create a copy of your site with the Sandbox plugin, which can then be used to test the themes and plugins you want to install before actually installing and activating them. 
The theme should also be responsive, as various screen sizes are in use today. It's general knowledge that most people browse the web on their mobile devices, so before you select a theme for your LearnDash website you should ensure that it is compatible with all conventional screen sizes. 
And pay special attention to mobile screen sizes, because most of your students are on mobile today. 
#8. SEO-friendliness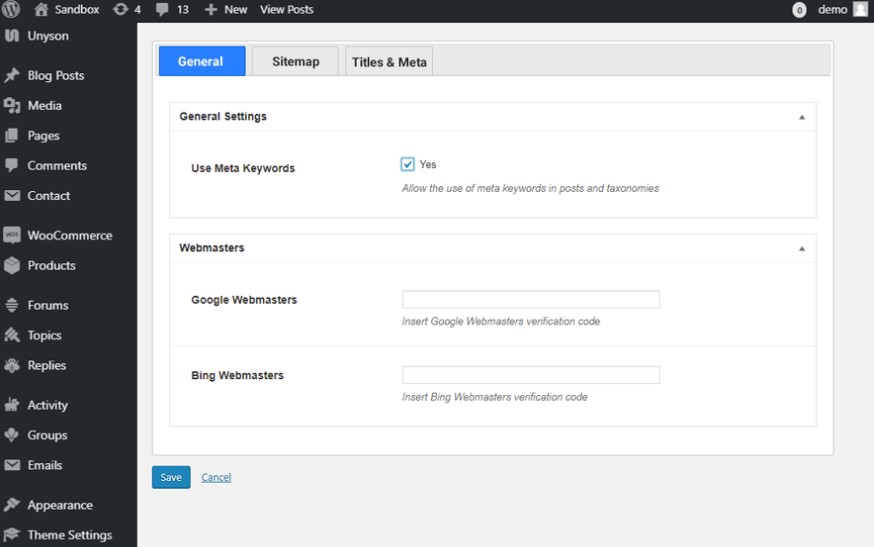 Example 4: SEO-friendly theme options
Search Engine Optimization – also known as SEO – is unarguably one of the most effective traffic building techniques till today. If you can optimize your site properly for search engines, you can get tons of highly converting visitors to your site at practically zero cost. 
You might also have heard about On-page and Off-page SEO techniques, but just like anything the right way to get started is from your home first (which is on-page SEO in this case). 
You need to make sure that all your web pages are SEO-friendly, and themes play a major role here. 
If your theme is not coded well, lacks the proper Schema markups or is too heavy, it won't perform well enough to make your site SEO-friendly. 
Here's how you can check each of these things:
Proper coding:

The code of your website should be compatible with all modern web browsers and devices. It should also be organized neatly. You can check how properly organized your code is by using

W3C Markup Validator

. Just enter the link of your theme's demo site in this tool and run the tool, it'll tell you whether the code of the theme is valid or not. 

Schema markup:

This functionality in the code of a website helps Google in understanding the content of your page in a better way. You can check whether your theme has Schema support built-in or not very easily – just right click on the page of your theme's demo site, click view source code, and in the window that opens next search for "Schema.org" by using the Find dialogue box (Ctrl+F). If you find a line that includes this code, then the theme is having support for Schema markup.

Loading speed:

The speed of your theme also matters a lot. If it doesn't load quickly because of cluttered CSS files and too many Javascript elements, it won't let your site load quickly. And since Google uses loading time as a factor in its ranking algorithms, it'll hurt your SEO adversely. 
You can check whether your theme loads quickly or not by using the PageSpeed Insights tool of Google. 
The method is the same – just run it on the pages of your theme's demo site, and see what it reveals. Just remember to use it on a page with less images for the purpose – because if there are too many images on the demo page it'll negate the purpose of the test. 
You want to check the speed of theme files only, so choose a page that has little to no images at all.
#9. Video conferencing integration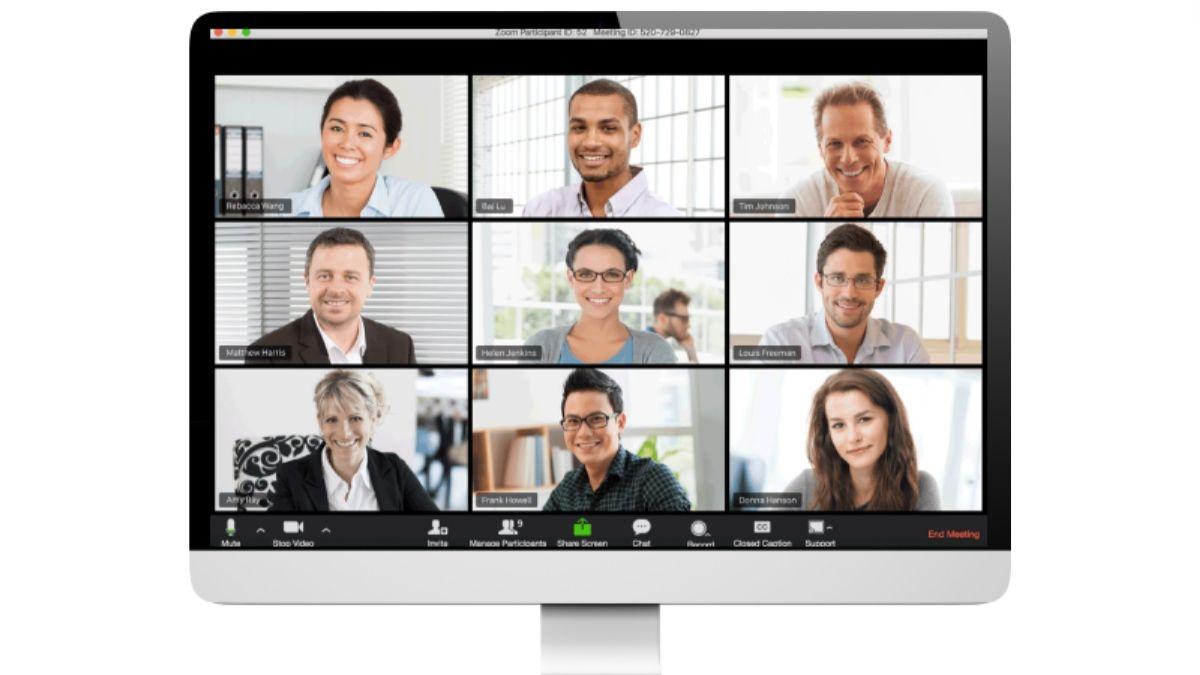 Last but not the least, integration of video conferencing services (i.e. Zoom or Google Meet etc.)  is another important thing that you should look for in any LearnDash theme. Since you're running your site to help people learn something, they may occasionally need your assistance to understand various concepts. 
In those circumstances if video calling functionality is integrated into your site, it becomes very easy to interact with your learners. So the theme you select should also have video calling integration feature built into it. 
Conclusion
These 9 features must be included in any LearnDash theme that you choose for your site. And there are plenty of themes available in WordPress repository for these features, including eLumine whose examples we gave above. 
Armed with this information, now you're well prepared to select a theme for your LearnDash site. 
Select it, go live, and share your thoughts in the comments!
This blog article was a guest post and contains affiliate links that we may receive compensation from.